Champions League: Can Zinedine Zidane save Real Madrid job against PSG?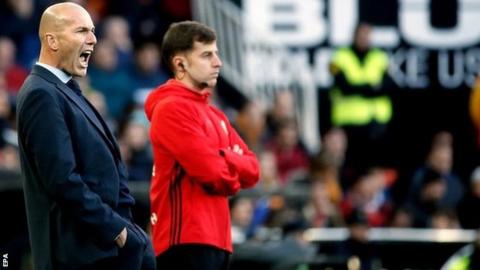 Real Madrid v Paris St-Germain - Champions League - round of 16
Venue: Santiago Bernabeu Date: Wednesday, 14 February Kick-off: 19:45 GMT
Real Madrid were desperate. It was the last minute of added time and they needed an equaliser. This attack would be their last chance.
Luka Modric received possession around 30 yards from goal, in the centre of the pitch.
To his right, Lucas Vazquez was making an overlapping run and was unmarked, in a good position to deliver a dangerous cross.
Modric saw him and played the pass… but he inexplicably hit it too hard, too far ahead of Vazquez, and the ball went straight out for a throw-in.
Seconds later, the final whistle blew and Real Madrid had been knocked out of the Copa del Rey at home by Leganes after winning the first leg.
And although it was by no means decisive to the outcome, Modric's error can be seen as an encapsulation of their decline: here was one of the best passers in the world, unable to even make a simple short pass to an unmarked team-mate. It made no sense, just like their whole season has made no sense.
Zinedine Zidane is among those who can offer no explanation for his team's disintegration, and it is looking like he is running out of time to find a cure. If Real are knocked out of the Champions League by Paris St-Germain, there is little chance of him surviving into next season.
Could a manager who has won the Champions League in each of his two seasons in charge, as well as last season's La Liga, really be facing the sack?
Timeline of a crisis - six key games
Wednesday, 16 August: Real Madrid 2-0 Barcelona
As the new season gets underway, there is no indication of the impending crisis as Real cruise past Barcelona in the Spanish Super Cup, winning 5-1 on aggregate, having also beaten Manchester United in the Uefa Super Cup.
Barcelona defender Gerard Pique: "We must accept that Madrid are better than us. In the nine years I've been here, it's the first time I feel inferior to them."
Saturday, 9 September: Real Madrid 1-1 Levante
The first worrying signs come when Real are held to draws in their opening two home league games, first by Valencia and then by lowly Levante. But it is not seen as much cause for concern.
Zidane: "We're not happy with the performance but we've got time to fix things."
Wednesday, 20 September: Real Madrid 0-1 Real Betis
After scoring in 73 consecutive games - a sequence stretching back 17 months - Real's run stops with a home defeat by mid-table Real Betis. Zidane, though, is still calm.
Zidane: "Today was not our best game, football can be like that at times but we don't have to worry."
Sunday, 29 October: Girona 2-1 Real Madrid
This is getting serious. After suffering a shock loss to lowly top-flight debutants Girona, Zidane is starting to accept his team are struggling.
Zidane: "It's a bad time, but you have to accept it. We're an experienced team full of champions, and we're going to turn this around."
Saturday, 23 December: Real Madrid 0-3 Barcelona
After a second-half capitulation to arch rivals Barcelona, there are now major doubts over Zidane's future at the end of a year in which his team won five trophies.
Zidane: "We are down because it is a defeat that hurts. Tomorrow they are going to hammer me, that is football but it won't change how I think or what I do."
Wednesday, 24 January: Real Madrid 1-2 Leganes
This could prove to be the final straw. Leganes - a small club on the outskirts of Madrid - are nicknamed Los Pepineros, 'The Cucumber Growers'. And the Spanish press is quick to dub this loss as Zidane's 'Pepinazo', referencing the cup exit against Alcorcon - 'Alcorconazo' - which contributed to Real's sacking of Manuel Pellegrini in 2010.
Zidane: "It's a fiasco. My worst moment as a coach. I'm responsible for this, I'm the boss. I have to find the solutions."
What has gone wrong?
The strange thing about Real's implosion this season is that nobody saw it coming and nobody can really explain why it has happened.
They were so good last season, becoming the first team to retain the Champions League and winning La Liga for the first time since 2012.
There have been no injury crises, no internal dramas to provoke conflict, no obvious tactical weakness exploited by opponents. But somehow the same group of players who won everything last season are now consistently playing poorly, both as individuals and collectively.
Pablo Brotons, an editor at Spanish sports daily newspaper Marca, is among those struggling to understand Real's demise and points to some departures last summer which, at the time, did not appear to be too significant.
"From the outside, it's difficult to analyse what has happened inside the dressing room," Brotons told BBC Sport. "It's unquestionable that the level of play isn't the same last season even though we're talking about practically the same players.
"But it's certainly the 'adios' of guys like Pepe, James Rodriguez and Alvaro Morata has been felt more than expected. They were players who completed a great squad."
Those departees were replaced by a batch of highly rated youngsters, but central defender Jesus Vallejo, left-back Theo Hernandez, midfielder Marcos Llorente and creator Dani Ceballos have rarely been given a chance.
The failure to adequately replace Chelsea-bound Morata has been particularly costly, with the 'BBC' front line enduring a torrid campaign: Cristiano Ronaldo has scored 11 league goals (hardly disgraceful but well below his usual goal-per-game standards), Gareth Bale has contributed six and, worst of all, Karim Benzema has netted just twice in 16 league games.
In that context, Zidane's inactivity in the January transfer market was strange, and his refusal to drop struggling favourites like Benzema and Ronaldo - along with his inability to cajole them into better form - has left him under unsustainable pressure.
Have Real got any chance against PSG?
After winning just 12 of their 22 league games, being dumped out of the Copa del Rey by Leganes, and suffering a Wembley walloping by Tottenham in the Champions League, the chances of Real overcoming the might of Paris St-Germain's Neymar, Kylian Mbappe and Edinson Cavani look slim.
As tweeted by one of Spain's leading pundits, Julio Maldonado, in the wake of this month's 2-2 draw against relegation-threatened Levante: "Real Madrid will need a drastic improvement not only to beat PSG but to have a chance of doing so."
Steady on, though. This is the European Cup, and it is never wise to write off Real Madrid in a competition they regard as their own after lifting the trophy on 12 occasions.
Marca editor Brotons says: "Of course they can win the Champions League. It's their favourite competition and they focus on it like no other team. It's a knockout competition and anything can happen over 180 minutes.
"Remember that in 1998 they were in a very similar situation, and ended up beating Juventus in Amsterdam with Jupp Heynckes on the bench."
And it was not too different four years ago as they struggled through an underwhelming first season under Carlo Ancelotti to finish third in La Liga, but still ended as European champions after an injury-time equaliser helped them overcome local rivals Atletico 4-1 after extra time.
Real Madrid might be down, but they have still shown occasional flashes such as an excellent first half in Saturday's 5-2 win against Real Sociedad. And in the Champions League more than any other competition, do not rule them out too early.
What will happen to Zidane?
Club president Florentino Perez - usually trigger-happy in such matters - would be reluctant to fire an affectionately regarded figure such as Zidane, with Brotons noting: "He's not only the coach who led Madrid to five titles in a calendar year, he's also a personality in the club and a very respected man."
But there's every chance the Frenchman would agree to walk away voluntarily at the end of the season rather than being pushed, and several names have been proposed as potential replacements.
Germany boss Joachim Low is a possibility if he opts to return to club management, Chelsea manager Antonio Conte could be a tempting candidate if he becomes available, and there has even been talk of a return for Jose Mourinho, who remains on good terms with Perez.
But look away now Spurs fans, because one man is emerging as the clear favourite to take over from Zidane at the Bernabeu.
"Various names are on the table, but one above all the others: Mauricio Pochettino," Brotons said.
"The Argentine coach is highly regarded by Florentino Perez, who has also always liked Jurgen Klopp since his time at Borussia Dortmund. But the number one on the list is Pochettino."
Zidane may be joined by many more high-profile figures through the exit door, with the futures of Ronaldo and Bale also in doubt amid suggestions that the squad needs a major shake-up.
And look away again Tottenham fans, because the players being most heavily linked with summer moves to the Bernabeu are Neymar and, you guessed it, Harry Kane.
So it might not be just Zidane's future at stake against PSG - it could also be Tottenham's.