Paul Heckingbottom: Leeds United boss explains Barnsley departure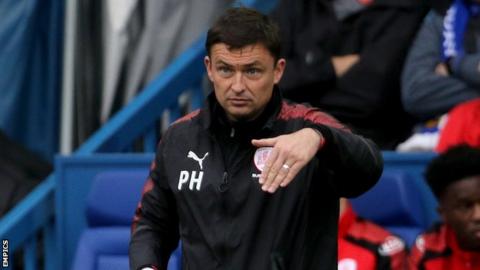 Paul Heckingbottom says Barnsley were "the winners" after he left to become Leeds United boss shortly after signing a new contract with the Tykes.
Barnsley said they were "shocked" after Heckingbottom, 40, joined Leeds three days after his new deal was announced.
"We had the sad news regarding Patrick [Cryne], when I'd already signed the contract a week before," he said.
"We were trying to get the timing right, and with the news about Patrick we decided to delay it even further."
Former Barnsley owner Cryne died from cancer at the age of 66 on 22 January.
Leeds paid a £500,000 fee to trigger a release clause in Heckingbottom's contract, which he said was first discussed in March 2017.
"For everyone, if they were annoyed that the contract was announced a couple of days before then fine, but in all honesty it had nothing to do with it," he told BBC Radio Leeds.
"If you look at it, there's only me missed out on the money with the new contract and Barnsley have received more compensation than if I didn't sign.
"Leeds have ended up paying more, so Barnsley have been the winners out of it."