Hull City vice-chairman Ehab Allam on fans, takeovers and having 'no regrets'
Last updated on .From the section Hull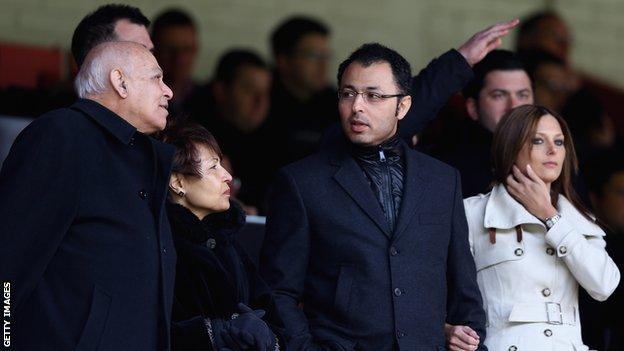 They say a week is a long time in football, so you can only imagine what the past seven years have felt like to Hull City.
When Assem Allam and his family bought the Tigers in December 2010 and helped them stave off administration, they were welcomed by the fans.
Seven managers and a botched attempt to rename the club later, plus the looming threat of back-to-back relegations, the relationship between owners and supporters seems as poor as it has ever been.
A change at the helm halfway through the season has not changed their fortunes. Hull have won just once since Nigel Adkins replaced Leonid Slutsky as manager in early December and slipped to 22nd in the Championship.
In recent weeks, vice-chairman Ehab Allam has met with fan groups, the council and local media in an attempt to rebuild bridges.
In a wide-ranging interview with BBC Radio Humberside's David Burns, Ehab reveals:
His response to criticism of the handling of the club's finances

His "exit strategy" to sell the club, and what is delaying a sale

The circumstances of Steve Bruce's departure as manager

How he has "no regrets" about his family's purchase of the club
'We have the best intentions'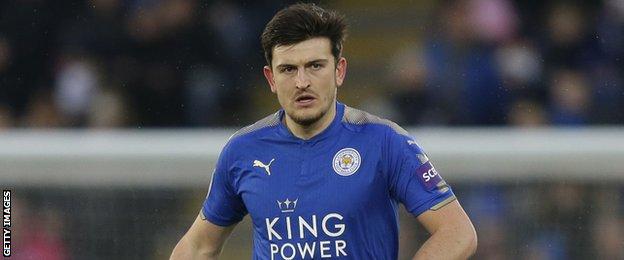 Fans have criticised the Allams for their handling of the club's finances, with many angry at the decision to remove concessionary ticket pricing, a decision Allam said he will reverse if certain conditions are met.
Questions were also asked about why record pre-tax profits of more than £35m for the 2016-17 season did not result in more investment in the transfer market.
Allam insisted that his family have "the best intentions for the club" and said they would "like to make the club as sustainable as possible", but admitted they are looking to run the business for a profit.
"We want to make a small profit, that is the intention," he said. "So if you look at where's the parachute money, we have made transfers and we're still paying transfers from the previous season.
"So when you buy for example Ryan Mason [for a reported £13m from Tottenham in August 2016], that's the biggest signing in the club's history, that wasn't paid for in one go, again we're paying in instalments.
"Half of his transfer was last year in the Premier League and the other half is this year and the same with other players.
"We're still paying out for the players that we bought historically and our wage bill this year was almost £30m.
"You're saying where's the parachute money gone? Well it's servicing the player wages of almost £30m and the instalments on the existing squad that we've already purchased."
Hull have been up for sale since 2014, when Assem Allam's plan to rename the club 'Hull Tigers' was rejected by the Football Association.
"Everybody knows that the club is for sale, that's what the fans seem to want and I've said before, what more can we do for the club?" Ehab Allam added.
"It is time for us to move on, that's what the fans seem to want as well and that's what we'd like to give the fans. So the plan is to sell and to move on.
"Ideally we would like to recover what we've put into the club and we think that's possible."
'Asking price not the stumbling block'
A number of proposed takeovers have fallen through since Hull were put up for sale.
A document from October 2016 showed a £130m conditional agreement to sell the club to a Far East consortium had been reached - although it never went through.
Despite admitting that there are no serious potential buyers for the club at the moment, Allam said "the price hasn't been the stumbling block".
"I think there are a couple of other issues, one is league position. Obviously that isn't that attractive at the moment to somebody coming in to buy a club with a view to try to get them back into the Premier League, so the first step is to try to move back up the table.
"It's a fine balance because we're trying to do that without spending too much money because we don't want to increase the price.
"And then the second being the relationship with the fans, I don't think that's helping.
"I think it's fairly common [knowledge] that the fans aren't happy with the ownership.
"The disruption the fans are causing in the games - I believe there's something else planned for the next game which is televised - that's not really helping somebody new looking at the club to think 'this is something I want to get involved in', which is another reason why I'm trying to fix the relationship with the fans."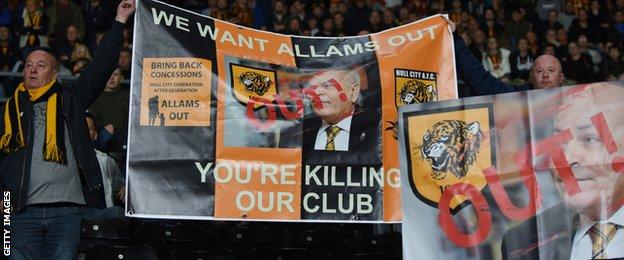 Hull made only two additions in January, signing Barnsley defender Angus MacDonald and bringing in Liverpool winger Harry Wilson on loan.
"I think we'll be safe anyway, I think we have a good enough squad and especially with the change to Nigel [Adkins] I think we'll survive this season," added Allam.
"To spend on a further two strikers, what would that be? £5m, £10m? Would that be wise? To spend an extra £10m and to add £10m onto the selling price.
"And also with where we are now, what would be the difference between us finishing seventh and 20th?
"There's no difference for this season, so I want to be sensible and look to invest in the summer and see where we are at the end of the season and then we plan for next season.
"We still have to be sensible financially so we do have to look at an exit strategy and that can take different forms.
"So the ideal strategy is to sell in the Championship and recover the majority of the investment which we've already made in the club.
"There are alternative plans on a further relegation, we still have an exit strategy."
Bruce departure 'a shame'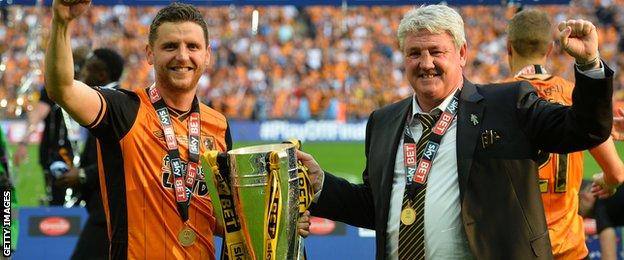 One of the most notable moments under the ownership of the Allams was the resignation of Steve Bruce in July 2016, just two months after leading Hull into the Premier League through the play-offs.
Bruce expressed frustration with the club's transfer failings, telling BBC Radio Humberside reporters they would have to "ask Ehab" why plans to sign Manchester United forward Nick Powell fell through.
His departure ended a four-year spell at the club, which took in two promotions to the top flight, an FA Cup final and qualification to the Europa League in 2014.
"That was a shame really, I like Steve. He did a fantastic job for the club, but it was time to move on," said Allam.
"Steve wanted to leave, he approached us before the play-off final at Wembley, he approached us beforehand, in I think it was the back end of February, early March and said he wanted to leave at the end of the season.
"He'd done four years and he wanted to move on, wanted to be closer to home.
"And again, if somebody wants to leave, as with the players, we would always try to accommodate and facilitate that but obviously that wasn't the right time to talk with a chance of reaching the play-offs and promotion, so we said that we'd leave the talks until after the end of the season.
"And then we made it through to Wembley, I was approached by Steve a few days before to say he still wanted to leave after, I said 'that's OK, if you want to go you can go'.
"Subsequently, we actually did get the promotion and I thank Steve for that obviously and he still wanted to go, so he left."
'I still think we've done a good job'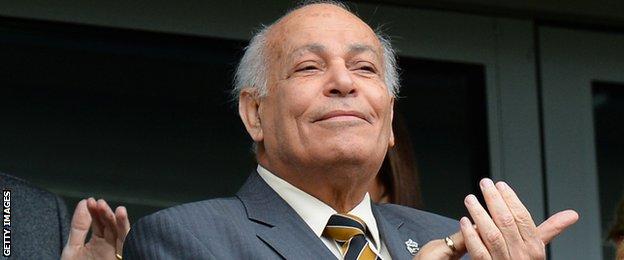 Despite a difficult relationship with the fans and the spectre of possible successive relegations, Allam does not regret the decision to buy the club.
"We are one of the most affordable clubs in the country," he added.
"We have a higher-than-average concession fan base. We have a fantastic stadium, latest technology, we do a lot with the family stand and there are lots of activities on a match day compared to other clubs.
"We've won the hospitality awards the last three years running, not just for a medium-size stadium but also the overall award.
"We do a really good job here. Last year we were voted the best away stadium to visit by the Football Supporters' Federation and on TripAdvisor as well.
"There are so many positives, but you choose not to look at those, you're only looking at the negatives. There are so many positives if you'll only open your eyes."
Despite that, Allam accepts that the owners "could have done certain things a little better".
"We've had a great time. On balance, we've had a great time," he said.
"We've had three years in the Premier League, we've had two promotion seasons, an FA Cup final and we've played in Europe. We've had a great time.
"Of course, you know everybody makes mistakes in life but on balance I still think we've done a good job."