Dick Campbell: Arbroath boss gets seven-game ban for confronting referee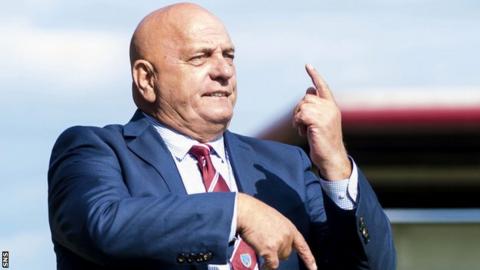 Arbroath manager Dick Campbell has been handed a seven-game ban for storming on to the pitch to confront the referee during a 4-1 loss to Ayr last month.
Campbell, 64, was enraged by whistler Mike Roncone's decision not to award his side a penalty during the Scottish Cup fourth-round tie on 20 January.
He was sent to the stands but continued his protests as he left the pitch.
Campbell will serve a five-match suspension immediately, with two games suspended until the end of the season.
The ban comes after Campbell was named League One manager of the month for January, when he steered his side to three wins and a draw from their four league games.
After the Cup defeat against Ayr, Campbell explained why he had felt such anger that he ran on to the pitch berate Roncone.
"I have never seen a more blatant penalty in my life - if it's not a penalty he has to book the player for diving," he said.
"Every Ayr United supporter saw it. I hope the supervisor questions the referee's performance - the decisions he made today put us out of the cup and made a major impact on the game.
"There is no word in the English dictionary to describe why it's not a penalty."