FA Cup: Tottenham's Mauricio Pochettino says Rochdale pitch is a 'massive risk' to players
By Matthew Henry
BBC Sport
Last updated on .From the section FA Cup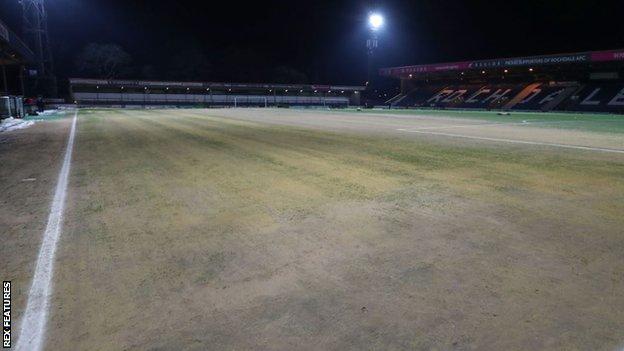 FA Cup fifth round
Date:
16-19 February
Coverage:
Rochdale v Tottenham (Sun, 18 February 16:00 GMT), Wigan v Manchester City (Mon, 19 February) live on BBC One and BBC Sport website.
Rochdale's pitch is a "massive risk" to players and the Football Association must "take a decision" before Tottenham visit in the FA Cup next weekend, says Spurs manager Mauricio Pochettino.
"It is not a pitch in a condition to play football," Pochettino said.
However, BBC Sport understands the fixture is unlikely to be moved from Rochdale's home Spotland.
The FA is in conversation with the League One club and will discuss the issue again with Dale after their home game with Fleetwood this weekend.
Venues can be changed in extreme circumstances but instead the FA will offer Rochdale a 'subsidised pitch protection service' which, if accepted, would include providing independent additional support in the form of extra groundstaff and equipment ahead of the fixture.
Rochdale's two home games prior to the FA Cup victory over Millwall were both postponed due to a waterlogged pitch while rugby league side Rochdale Hornets also play at the ground.
Rochdale chief executive Russ Green played down the issue telling Talksport there was "no fear of injuries" during the Millwall tie but said the club were considering laying down a new pitch.
"We didn't endanger anybody's careers and I don't care if it's a Tottenham player or a Millwall player - they are still professional footballers," Green said.
"Has anyone spoken to the referee? He told me after the game and said he couldn't believe the pitch stood up to what it did.
"If it's financially viable, we would put down a new pitch before the cup tie. It's something we're considering doing.
"Has anybody looked at the weather we've had over the past 12 months? We had 289 days of rain last year - 4ft 11.5in of it. We've had to overcome exceptional circumstances."
However, Pochettino said: "I think the FA needs to assess the pitch and then to take a decision if it is good for the FA Cup, good for the players, for the team and players to play on this type of pitch.
"I think it is about providing a safe place to play for the players.
"I think it is a big risk to play on a pitch like this, if the pictures give us an accurate state. If it is like what I saw in the pictures I don't think you can play football.
"Not because we are Tottenham - Rochdale I think too cannot play there. It is a massive risk for their players too. The FA needs to go in and take a good decision for football."