Tottenham outclass Arsenal and start to look strongest contenders behind Man City

By Phil McNulty
Chief football writer
Last updated on .From the section Football492
Tottenham's impressive north London derby win over Arsenal completes a highly satisfying period for manager Mauricio Pochettino.
Harry Kane's soaring header to secure a deserved victory at Wembley was the perfect preparation for the first leg of their Champions League last-16 meeting with Juventus in Turin on Tuesday.
It was of even greater significance in the context of an increasingly competitive fight for a place in the Premier League's top four and qualification for next season's Champions League.
With Manchester City making the title race a procession, Manchester United, Spurs, Liverpool, Chelsea and Arsenal are fighting for the three remaining places on offer.
And after another powerful statement of their progress, Spurs are making a strong case to be considered 'the best of the rest' after Manchester City.
Spurs surge gathers momentum
Two years ago Spurs suffered the disappointment of finishing third in what, for long periods, had looked a two-horse race with eventual champions Leicester and could never get close enough to Chelsea last season. It is still a huge transition from there to becoming champions - and Pochettino has yet to win his first silverware with the club.
The Argentine is still fighting for that first trophy in the FA Cup as well as the Champions League this season - and three performances inside a fortnight suggest they are strong contenders to end that drought and also emerge as the team that gets closest to Pep Guardiola's league leaders.
Manchester United were outplayed here at Wembley and well beaten 2-0 in Spurs' last home game, while the calm, assured manner in which they came from behind to earn a merited point at Liverpool, irrespective of penalty controversies, augurs well for Pochettino and his team.
Spurs kept their nerve as Liverpool subjected them to an intense and high-quality first half before taking control after the break and ending as the stronger side.
Questions remain - Spurs have not won away in the league against Arsenal, Chelsea, Liverpool, Manchester City or Manchester United in 11 games stretching back to a 2-1 win at Etihad Stadium in February 2016 - but Anfield was the sort of performance the doubters had been demanding.
And in this north London derby, after a subdued first 45 minutes, Spurs simply moved to another level that Arsenal could not contend with until two late opportunities for Alexandre Lacazette almost rescued an unlikely point.
Pochettino said afterwards: "We have had three massive games against United, Liverpool and Arsenal and seven points is good.
"It is important for the belief of the team to take those points. Football is about trust, confidence and belief.
"I am so pleased because this was a key period to fight for the top four."
Spurs still have to play Chelsea away and City at home but such is the confidence that they will not fear either of those games.
And with the return to fitness of key defender Toby Alderweireld and the shrewd £25m acquisition of Lucas Moura from Paris St-Germain, Pochettino has the luxury of some timely strengthening of his squad.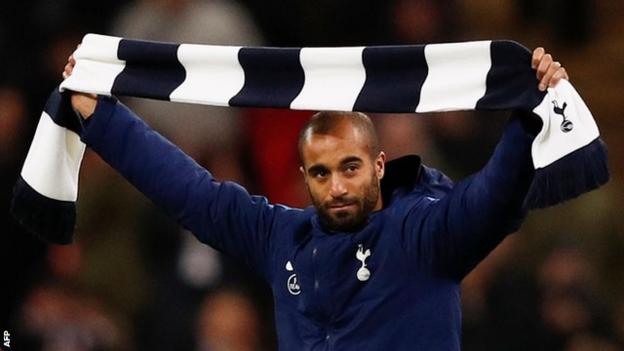 In full flight, and crucially free from injuries that could test that squad strength, Spurs look the complete package.
The defence is solid with options in the centre and on the flanks; the midfield is a potent mixture of the power offered by the likes of Mousa Dembele, Eric Dier and Victor Wanyama and the creativity and goalscoring of Dele Alli and Christian Eriksen.
Kane is one of Europe's most potent attackers - although, if there is a worry, it would be the cover for the talismanic striker, with Fernando Llorente making little impact since his move from Swansea.
Strength of performances, however, suggest that this Spurs side has all the assets to finish inside the top four - and finally end that wait for a trophy.
Who is in best shape to make the top four?
Two of the Premier League's established superpowers will miss out on the top four this season - so Spurs' run of consistency could prove crucial.
Manchester United, for all the supposed weaknesses and lack of colour in Jose Mourinho's team, have been Manchester City's closest challengers, at least as measured by the league table, all season.
And with the addition of Alexis Sanchez from Arsenal, almost an unexpected bonus when he seemed destined for City, Mourinho has sprinkled further stardust on a squad who have not won too many plaudits this season but have consistently held down second place and still present a threat in the Champions League.
Liverpool, perhaps as much for their defensive frailties as the attacking brilliance of Mohamed Salah, Roberto Firmino and Sadio Mane, remain arguably the most exciting side to watch after Manchester City.
Sheer weight of goals may be enough to confirm their top-four place - leaving the pressure on Arsenal and Chelsea.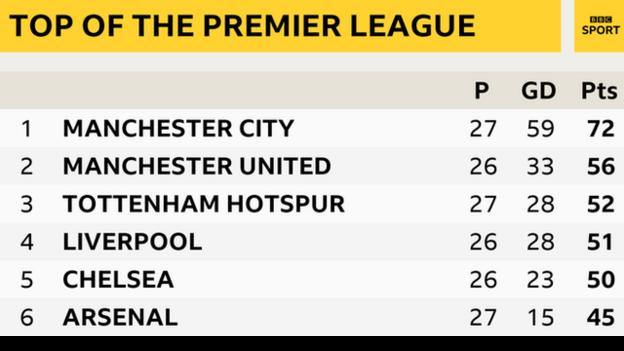 Chelsea are currently fifth, a point behind Liverpool with sub-plots swirling around manager Antonio Conte and his future after the 3-0 loss at home to Bournemouth and the crushing 4-1 defeat at Watford.
The fight for top-four places is becoming more competitive with every passing week and Chelsea, and their under-pressure manager, will hope to start the recovery process against bottom club West Brom at Stamford Bridge on Monday.
Arsenal's Wembley defeat left them six points adrift of Liverpool in fourth place. Victory for Liverpool at Southampton on Sunday will turn the pressure on the Gunners up another notch.
Arsenal take backward steps
Arsenal took one step forward with the comfortable 5-1 win against Everton at Emirates Stadium - and two steps back with a loss to Spurs by a narrow scoreline that was not an accurate measure of their inferiority.
Arsene Wenger's side revelled in the space and time they were offered by a lamentable Everton performance, new strike force Pierre-Emerick Aubameyang and Henrikh Mkhitaryan basking in such freedom.
Not here.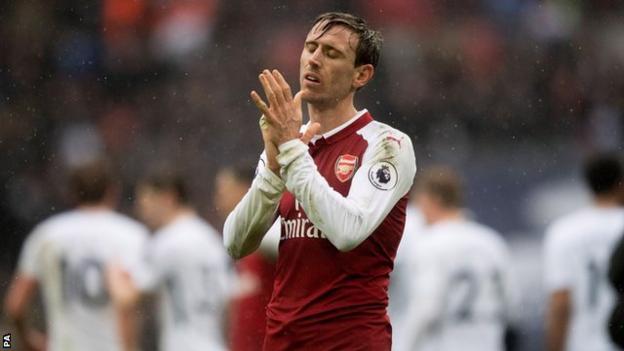 Mkhitaryan was nowhere to be seen, or to be more precise on the rare occasions he was seen he was awful, while Aubameyang was on a starvation diet of service.
Had it not been for the brilliance of goalkeeper Petr Cech, Arsenal could have been on the receiving end of a heavy beating, such was Spurs' second-half dominance.
The deposed Lacazatte had two late chances to pull off an act of grand larceny that would have sent Pochettino into meltdown but wasted both.
It would harsh, however, to pin this loss on Arsenal's two new attacking weapons. It was old uncertainties that did for them.
The Gunners actually looked organised and disciplined in the first half but once Kane rose higher than Laurent Koscielny to score in the 49th minute it was the same old story.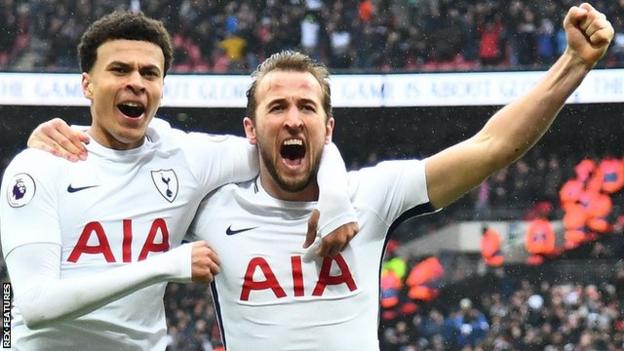 The visitors did not lack fight, but there was an inherent weakness and lack of response as Cech alone kept the scoreline to manageable proportions.
Arsenal have won just three away league games this season, at Crystal Palace, Everton and Burnley, while the past three on their travels have brought losses at Bournemouth, Swansea and now Spurs.
Those are statistics that suggest the Europa League may end up being Arsenal's best route into the Champions League - although sides of the class of Atletico Madrid, Borussia Dortmund and Napoli are serious obstacles.
But Wenger has no plans to prioritise the Europa League, as Jose Mourinho did when winning it with Manchester United last season, to try to reach the Champions League.
"It's too early," he said. "Football is not about switching off for three games and then switching it on for one game. Manchester United decided [to focus on the Europa League] once they were in the semi-final.
"We are far from the semi-final and we have to fight to have a chance to come back. For me, it's a very disappointing result because the priority has to be to get into the Champions League from the Premier League."
Time will tell if Arsenal and Wenger revisit those priorities.