FA Cup: Rochdale's schoolboy midfielder Daniel Adshead could face Tottenham
By Neil Johnston
BBC Sport
Last updated on .From the section FA Cup57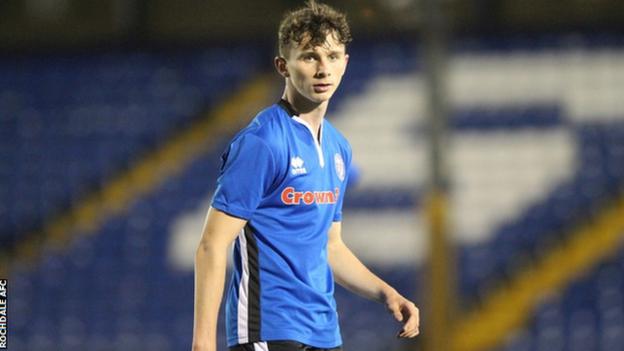 FA Cup fifth round: Rochdale v Tottenham Hotspur
Venue:
Spotland
Date:
Sunday, 18 February
Kick-off:
16:00 GMT
Coverage:
Watch live on BBC One & the BBC Sport app from 15:35 GMT, live commentary on BBC Radio 5 live sport and follow text updates on the BBC Sport website.
"When we travelled down to Millwall in the last round, he was doing his homework on the team coach."
Rochdale boss Keith Hill is talking about the League One club's 16-year-old midfielder Daniel Adshead, who could face Tottenham in the FA Cup fifth round on Sunday.
Born in 2001, the Manchester schoolboy became Dale's youngest ever debutant - aged 16 years and 17 days - when he faced Bury in the EFL Trophy on 19 September.
Adshead, who has been linked with Arsenal and Chelsea, has since helped the club reach the FA Cup fifth round for only the third time in their history.
He is so young, child protection regulations mean he must get changed before and after games away from his team-mates.
And, no matter what the result on Sunday, he will be back at Gorton's Wright Robinson College - where he is deputy head boy - on Monday.
"You don't have to be a rocket scientist to know Dan's got a great future in the game," Hill, who gave England defender John Stones his debut for Barnsley in 2012, told BBC Sport.
"People forget he's only 16. He's making a lot of progress for someone still at school.
"He got on the pitch against Millwall in the FA Cup, he played 64 minutes against Doncaster in the third round, and he'll probably be involved as a substitute against Tottenham.
"When he is involved with the first team he misses a few days of school, but when we travelled down to Millwall he was doing his homework on the coach.
"There are a lot of sharks in the football world. I treat Dan like I would do one of my own children."
'We hope to see Dan in school on Monday'
Adshead, who is preparing for his GCSEs, is surrounded by seasoned professionals - including 33-year-old defender Jim McNulty.
The former Brighton player said: "While the rest of the players are on the team coach wearing the latest headphones, Dan's getting stuck into his school work.
"I wasn't too aware that he has to get changed away from everyone else until there was a situation in a league game at Doncaster in December.
"Dan had made his league debut after coming on as a substitute. We lost the match and Dan was sitting there waiting to get changed. I said to him: 'Dan, come on, don't worry about it, get your head up, just get in the shower, and let's go.'
"He said: 'I'm not disappointed, I just can't get in the shower.' He explained why and I thought, 'oh my word'. It actually dawned on me how young he is.
"He has to have his own room on away trips, he needs his own changing area and separate shower."
Martin Haworth, deputy headmaster at Wright Robinson College - whose former pupils include ex-Manchester United and England midfielder Nicky Butt, said Adshead was due at school 15 hours after the Spurs tie.
"We'd hope to see Daniel back at school on Monday as long as he is in bed for a reasonable time - and not out celebrating," he told BBC Sport.
"The beauty of it is Daniel wants to be in school. He likes coming to school and embraces school life. He'll either be at football or in school because he's successful at both."
Henderson - 'Rochdale's Harry Kane'
This is Rochdale's sixth game in this season's FA Cup. They have beaten Bromley (4-0), Slough (4-0), Doncaster (1-0) and Millwall (2-2, 1-0) to get this far. Captain Ian Henderson, 33, has scored five of the 12 goals. Henderson, who played for Norwich City in the top-flight in 2004-05, has four goals in his past four appearances.
Tottenham have progressed from 16 of their past 17 FA Cup ties against lower-league opponents, losing only to Leeds in the fourth round in 2012-13. They have not lost to a team from the third tier or below in the FA Cup since a 2-1 defeat at Port Vale in January 1988.
Rochdale goalkeeper Josh Lillis was in goal when Harry Kane, then aged 17, made his debut for Leyton Orient against Dale at Spotland in 2011. "If I'm being honest, I don't remember it," he says. Lillis is the son of former Manchester City player Mark Lillis, who is assistant to John Gregory at Indian Super League team Chennaiyin.
Dale have lost their past six FA Cup ties against top-flight opposition since beating Coventry City 2-1 in January 1971. They lost 3-1 at Wolves in their last fifth-round appearance in 2003.
'Two worlds colliding'
Hill, a former defender who played under Kenny Dalglish at Blackburn Rovers, has been managing Rochdale for 10 years across two spells.
He is the sixth longest-serving manager in the EFL and was in charge when Harry Kane, then 17, made his league debut as a 73rd-minute substitute for Leyton Orient at Spotland in front of a crowd of 2,731 in January 2011.
"I don't remember that game too well," said Hill, who has described Sunday's game as a "collision of two worlds".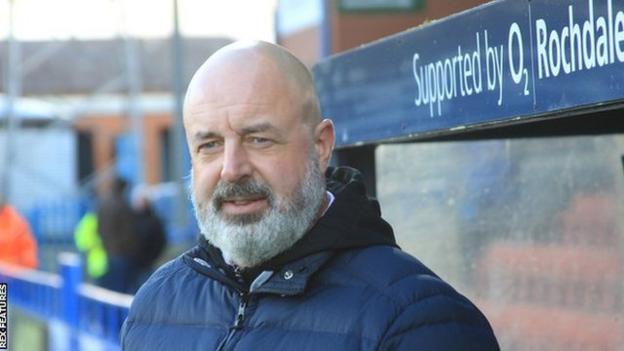 While Spurs counterpart Mauricio Pochettino spent a reported £42m on defender Davinson Sanchez last August, the most Hill has spent on one player at Rochdale is £75,000.
"We are very astute with our money and we live within our means. That shouldn't be overlooked. The football world is in massive debt," he said.
On facing Spurs, the 48-year-old added: "It's probably the biggest game in Rochdale's history from a prestige point of view.
"It's the haves against the have-nots.
"But once the whistle goes it won't be about who has the biggest wage packet. For 90 minutes we are on a level playing field with Tottenham."
Hill's six-year-old son Sidney will be one of the mascots for Sunday's tie.
"He's very proud to tell everybody he supports Rochdale," he added. "But everybody in his school playground doesn't know who Rochdale are. They might do this weekend."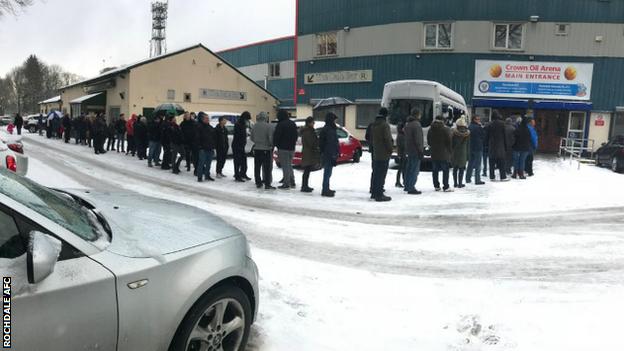 'I was told I wouldn't play again'
Nine years ago, McNulty thought his career was over after a horrific injury resulted in the loss of a kidney. He is now preparing for the biggest game of his life.
McNulty was playing for Brighton against Crewe in a League One game on 28 February 2009 when a challenge left him "throwing out blood at an alarming rate".
"I remember looking down at my white shorts and there was a red circle that was growing bigger and bigger," McNulty told BBC Sport.
"I was told by a doctor after being rushed into hospital I wouldn't play again. It was devastating to hear that. I broke down in front of my family.
"Later, the team doctor contacted some friends in the southern hemisphere, where this injury is a bit more common with rugby players. He told me not to worry and that I could continue my career."
McNulty had two operations in an attempt to save his right kidney and another to "remove the mess that was left".
He added: "Playing with one kidney doesn't impact on me. It's more a lifestyle thing in terms of regular check-ups.
"It probably affects hangovers more than anything else because my one kidney is working doubly hard to get that poison out of the system."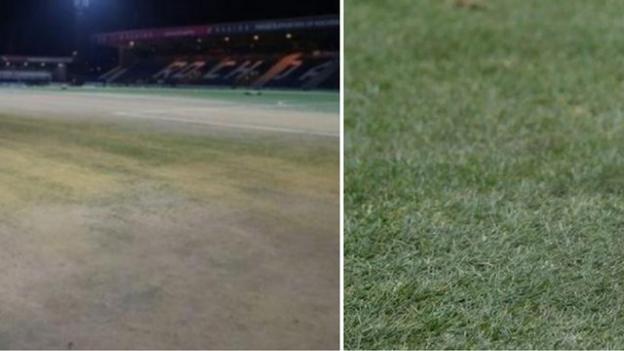 Will Dale cause a major shock?
Rochdale defender Jim McNulty: "We recognise it's a special game but we'll treat it like any other in terms of preparation. We know all about Tottenham's players from watching Match of the Day, but we'll study them nonetheless.
"There's been a few conversations amongst the players and how the Juventus game in midweek might help us out after the north London derby. Who knows?"
Match of the Day commentator Guy Mowbray: "It's not only the inaugural meeting of the clubs, it's undoubtedly the first time any team's run of fixture venues has read Wembley-Juventus-Rochdale.
"Whatever happens, it's Rochdale's occasion to savour, although their chances have surely lessened with the laying of a brand spanking new pitch. The Spurs spies will have advised of Ian Henderson's finishing and Matt Done's wing play, But in these ties it's usually the top-flight team's temperament that decides matters - and unlike some (not all) Spurs sides of the past, this one doesn't mind a battle."
Rochdale goalkeeper Josh Lillis: "Anything can happen... it's the magic of the FA Cup. You tend to find teams that struggle in the league tend to do well in the cup competitions. I don't know if it's a mental thing or a break from the league. I imagine it's a trophy Tottenham want to win because fans and owners crave trophies. Whether the big guns play, I'm not too sure. But whoever they put out it will be lovely to test ourselves against them."
Mark Lawrenson, FA Cup winner with Liverpool: "Keith Hill has been at Rochdale for a long, long time. They are not doing particularly well in the league but this will be a massive day for them. However, I think Tottenham, whatever team they select, will have too much for them."
Rochdale manager Keith Hill: "We want to play a certain type of football and want to be seen in a good light. We want the football world to see we are not just a small club and we do the right things."