Kilmarnock 3-2 Dundee: Defeat was "unprofessional" - Neil McCann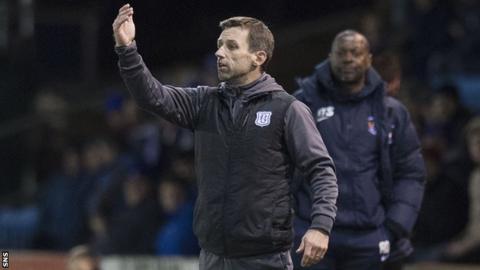 Dundee manager Neil McCann says it was "criminal" and "unprofessional" for his players to let 10-man Kilmarnock come back to win from 2-1 down.
McCann's side took the lead through debutant Steven Caulker before Kilmarnock's Gary Dicker was sent off for his second bookable offence.
Yet Kris Boyd and Iain Wilson scored as Dundee failed to hold on and lost 3-2.
"Only the players can explain why they're not doing their jobs properly," McCann said.
"They've been told and they will be told repeatedly again that it's unacceptable.
"We're 2-1 up and a man up, I've taken off a more attacking player for a defensive player, but for some unknown reason we can't manage that situation.
"We've just got players running and I'm screaming at them from the touchline. We shouldn't lose that game."
McCann's side overcame the setback of losing an early goal to Eamonn Brophy to be level at half-time thanks to Sofien Moussa's penalty.
Caulker was an impressive figure throughout and his goal put the visitors in command of the scoreline, but the visitors could not see the game out.
McCann was also frustrated with the referee, Nick Walsh, feeling that there was a foul during the build-up to the winning goal.
The Dundee manager also thought that Dicker was in an offside position when Brophy scored the opening goal.
"Glen Kamara is fouled right in front of us, Nick doesn't give it, and he waltzes through, the boy," McCann said.
"I'm not happy with [the referee] not giving a free kick when Kamara was fouled. Other than that, both managers might have a few grumbles. [But] it wasn't the referee's faulty we lost the game."
Kilmarnock manager Steve Clarke was unhappy with his side's first-half performance, although he felt the penalty award was "a really soft decision; the ball just bounced off the goalkeeper and hit Gary [Dicker]".
The win was Kilmarnock's seventh in a row at Rugby Park, the first time they have achieved that since 1979, and Clarke praised the efforts of substitutes Wilson and Lee Erwin, who set up Boyd's equaliser.
"To come back from 2-1 down with 10 men to win the game is a fantastic achievement and the players deserve every bit of credit they get," Clarke said.
"But we put ourselves in a poor position, we weren't in the game and Dundee were better than us in the first half.
"We're not too bad; we're a good team and the recent run of matches has shown that.
"If we have to compete and battle, we've shown that, and if we have to get the ball down and pass it, we've shown that.
"Iain Wilson and Lee Erwin were fantastic off the bench. Iain is a very level-headed young boy, he has a big future in front of him.
"He can be anything he wants to be, but we'll keep his feet on the ground and he'll keep working hard."