Ryan Giggs' medals will not help him - Wales women's boss Jayne Ludlow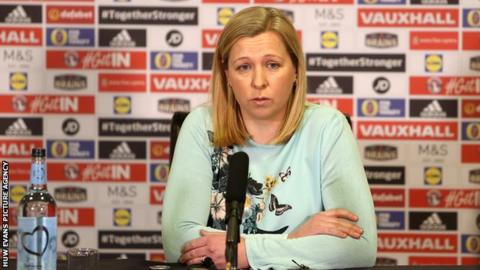 Wales women's manager Jayne Ludlow says Ryan Giggs' glittering club career will "not help" to win over his players.
Giggs' appointment has been met with scepticism from some Wales fans because of the perception that he put club over country during his playing career.
Ludlow, Wales' most decorated female player, experienced similar resistance when she succeeded popular former coach Jarmo Matikainen in 2014.
"Change can be a bit scary for people," Ludlow told BBC Sport Wales.
There are parallels between Giggs and Ludlow, Wales' head coach for close to four years, both of them having enjoyed playing careers at the highest level in their respective branches of the game.
Ludlow, like Giggs, is Wales' most decorated player, and every bit the icon with Arsenal Ladies that Giggs is at Old Trafford.
She won nine league titles, six FA Cups and a Uefa Women's Cup and is Arsenal's highest ever goalscorer.
When Ludlow retired from international football in October 2012, she was described by Matikainen as "the most successful player that Wales has ever had".
She scored 19 goals in 61 games for Wales and captained the side 38 times.
However, as with Giggs, Ludlow's time as Wales boss began with mixed feelings from her players, many of whom were sad to part with Matikainen.
It has been reported that Wales' players, as well as being saddened by the departure of Giggs' predecessor Chris Coleman, contacted Vancouver Whitecaps coach Carl Robinson to ask him to apply for the job.
However, Ludlow feels Giggs can win players round - as long as he does not expect instant respect based on his playing days.
"I am sure Ryan will show with the competition out in China [the China Cup] and in the next month or so that he's very capable," Ludlow said.
"But no actually, I don't think his playing career will help him. I think at the end of the day it is about the personality, be it mine or Ryan's.
"People make a big issue of what players have achieved in the past but it didn't make a difference for me when I walked into that Wales dressing room for the first time [as coach].
"When you are actually making decisions on behalf of the group it is very different to being a captain.
"So my experience helped me to understand the environment, in many ways, but it didn't necessarily help me to work with the players and make sure I can get the best out of them."
Ludlow agrees there are parallels between Giggs and herself.
"In our own realms I guess we are comparable. I wish him well, he's got a great job and he's obviously very pleased to be given it," she said.
"He has some tough challenges ahead. He has a group of players now who are hopefully still wanting to push to achieve things, so I am sure he will do really well.
"It's change isn't it? I don't think it is any more than that, change can be a bit scary for people."
'I haven't focused on Phil Neville'
Wales women's bid for a first ever major tournament appearance is going well after a superb start to their 2019 World Cup qualifying group.
Ludlow's side are top of Group One after four games and are yet to concede a goal at the midway point. They face England on 6 April, a contest that will mark Phil Neville's first competitive game.
Neville was announced in January as the new England manager, but his appointment attracted controversy after sexist comments he had made on social media came to light, something Neville apologised for.
That comes after former boss, Welshman Mark Sampson, was sacked for "inappropriate and unacceptable" behaviour with female players in a previous role.
Ludlow is relishing the chance to pit her wits against Neville, but says his appointment is one she has not thought too deeply about.
"Without wishing to sound disrespectful to Phil, his situation is not one I have really focused on," she explained.
"I don't really have an opinion on it, I just know he will be standing against me at the game in April.
"I am sure he will have some good people around him and he has one heck of a great squad to pick from. So I am sure they have made the appointment for the right reasons.
"I'm not on Twitter and Facebook and there is a reason! For me life is to be enjoyed, it's pretty simple.
"Some people think any publicity is good publicity and I don't really know where I sit with that.
"We will look after our environment and they will look after theirs."