Cardiff Met Ladies disqualified from FAW Women's Cup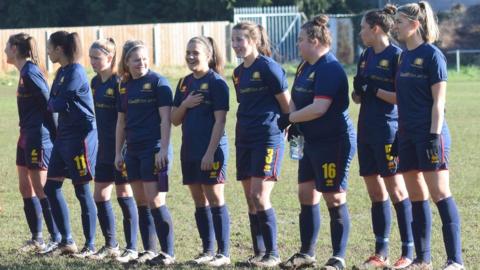 Wales' top ladies football club has been disqualified from a competition for fielding ineligible players.
The club will now be denied the chance to win a historic treble.
Cardiff Metropolitan Ladies beat Cardiff City Women in the second round of the Football Association of Wales (FAW) Women's Cup on 12 November.
The Archers brought on two 15-year-old substitutes, but FAW rules state they were too young to play in the competition.
The club accepted it broke the rules, but argued the rulebook is unclear.
Cardiff Met are currently top of the Welsh Premier Women's League, having won 11 games from 11, and have already secured a place in the League Cup final.
The FAW's National Game Board considered observations sent by Dr Kerry Harris, a senior lecturer and performance​ director at Cardiff Met.
She said there is "no mention of 15-year-old's eligibility," in the FAW Women's Cup rulebook.
"Given that this is the first season that 15-year-old's have been introduced to the senior women's game, it would make sense to ensure that any restrictions are coherent," she said.
Dr Harris also alerted the board to the three month delay in disciplinary action, and suggested the team sheets had not been checked at the time.
She added that Cardiff Met had "no need to field ineligible players" given the strength and depth of its squad.
In a letter sent to the club's secretary Sophie Scherschel, the FAW said it was "unanimously decided" that Cardiff Met should be removed from the cup and Cardiff City reinstated to play in round three.
Ms Scherschel said: "We are obviously disappointed with the decision. We will now focus our efforts on securing the league and the league cup final against Cyncoed".
Andrew Howard, FAW head of competitions, explained clubs in the Welsh Premier Women's League are permitted to register up to two 15-year-old players to play in league and the league cup only.
"To ensure a level playing field in our national cup competition, these players are not permitted to play in the FAW Women's Cup as the 15-year-old rule is not applicable to clubs playing in tiers two and three who also enter the FAW Women's Cup," he said.
"The FAW believes that this was an honest mistake by Cardiff Met, but the rules are clear and do not allow for any discretion when ineligible players participate".