England could play Qatar friendly after FA agreement with 2022 World Cup hosts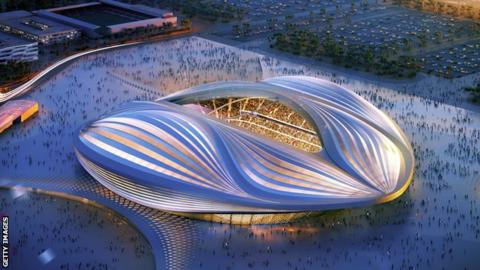 England could play a friendly against Qatar after the Football Association signed a partnership agreement with the 2022 World Cup hosts.
FA chairman Greg Clarke signed the "knowledge-sharing" deal with the Qatar FA in Doha on Wednesday.
In 2015, his predecessor Greg Dyke said awarding Qatar the World Cup was "the worst moment in Fifa's history".
But Clarke said: "We have a long history of collaboration with various national associations."
He added: "For Qatar, developing the game across the country is a key objective as they approach the hosting of the World Cup in 2022."
The agreement will see the countries share ideas on football development, grassroots football, youth development, women's football, player performance and management and administration.
The FA also confirmed that the countries would "look at the possibility of organising friendly matches across the different age groups".
Analysis
BBC sports editor Dan Roan
How times change. In 2015, former FA chief Greg Dyke demanded Qatar be stripped of the right to host the World Cup if corruption allegations - some of which are still being investigated by US and Swiss authorities - were proven. Today, in what appears a dramatic U-turn, his successor hailed the 2022 World Cup as "exciting".
For the FA, this makes strategic sense. It is on a global charm offensive ahead of a potential bid for the 2030 World Cup. And it also fits in with the government's push to strengthen ties with a country that has invested billions of pounds in the UK, ahead of the post-Brexit era.
However, some critics will be concerned that by forging closer links with a country still under intense scrutiny over its treatment of migrant workers, the FA may have once again put football politics over principles, just like it did when bidding for the 2018 World Cup. And rather than signing up for friendly matches, some would no doubt have preferred the FA to have used its influence to keep the pressure up on Qatar to make labour reforms.