Leeann Dempster: Hibs chief exec rules out move to SFA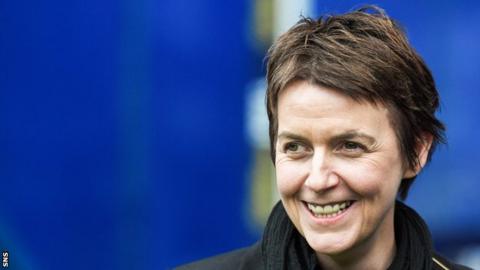 Hibernian's Leeann Dempster has ruled herself out of the running for the chief executive job at the Scottish Football Association.
Dempster occupies the same role at Easter Road and had been linked with the SFA post following Stewart Regan's departure on 1 February.
Dempster moved to Hibs after holding a similar position at Motherwell.
"I'm really enjoying life at Hibs," she said. "I love the people that I work with. I really, really enjoy the club."
And Dempster explained she does not expect her next job to be in Scotland.
"It would have to be something pretty enticing and I think at a point in the future that will probably be somewhere else," Dempster told BBC Scotland.
"When I was linked to the post a couple of weeks ago. Colleagues in football had nominated me and my name was there. It was nice to be linked with that job and I think it is actually one of the biggest jobs in football, no doubt about it.
"I would not be telling you the truth if I didn't stop and think, 'actually, what would I do here?'
"I did all of those things and then I gave myself a dose of reality and I looked around the life I have here at Hibernian - the people and the club and the enjoyment that I have working here and I really don't think that our job at this club is finished.
"I'm probably halfway through my usefulness here at Hibs. I've been here three-and-half years. Most chief execs have a time span. I'm probably on the back end of my time span to be perfectly honest but the supporters will tell me, I'm sure."
Since Dempster's arrival in Edinburgh, Hibs have won the Scottish Cup and promotion to the Premiership.
In her early days at Easter Road, Terry Butcher was sacked as manager and Alan Stubbs appointed.
And, after Stubbs oversaw Hibs' momentous 2016 cup win - the club's first since 1902 - and left for Rotherham United, Dempster appointed former Celtic manager Neil Lennon.
Lennon, in his first season in charge, guided Hibs back to the top flight - ending a three-year spell in the Championship.
And the Northern Irishman had his contract extended until 2020 earlier this season.
Dempster was also asked about the possibility of the SFA approaching Lennon for the Scotland manager's job - a post that has been vacant since October.
"I've got nothing but good things to say about Neil and his style and his determination," said Dempster.
"As and when - and it will be a when because he's doing so well - either a club or an association comes towards us and asks to speak to Neil, I'll do everything in my power to keep him here.
"Equally, I'll also know, because we've got a brilliant relationship, if it's something that he wants to pursue and if he does then he'll go with my best wishes.
"I hope it's not now, we've got a few games of football to play yet."