Celtic: Peter Lawwell predicts 'significant change' to European football
Last updated on .From the section Celtic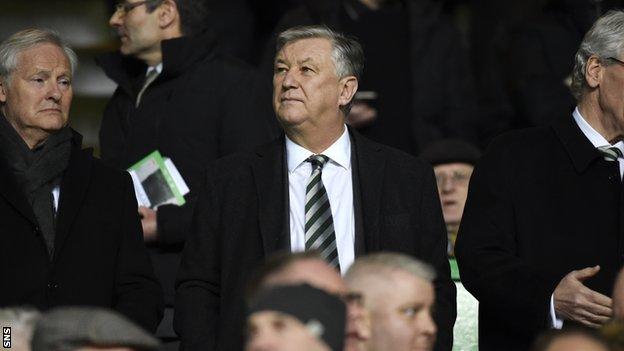 Scottish clubs could be "regular participants" in the Europa League in six years' time amid "significant change" in European football, says Celtic chief executive Peter Lawwell.
Lawwell says discussions are taking place about the format of the second tier continental competition from 2024.
And he believes Scottish clubs can take advantage of "transformational" income.
"We should be getting ready to bring in new money from European participation," Lawwell told BBC Scotland.
"Growth in Scottish football will come from looking outside Scotland, and getting more participation of our clubs in Europe.
"For clubs like Aberdeen, Hibs and Hearts, it's very possible they could be regular participants in the Europa League or it's equivalent in six years."
Celtic beat Zenit St Petersburg 1-0 in the first leg of their last-32 tie in the competition, having parachuted down from the Champions League.
But Scotland's three other representatives - Aberdeen, Rangers, and St Johnstone - all went out in the qualifying rounds last summer.
'You have to have more games in Europe'
The format of the Champions League and Europa League has been agreed between Uefa and the European Club Association for the next broadcast rights cycle.
Celtic have qualified for the Champions League group stages for the past two season, with the financial rewards of that evident in the Scottish champions' latest figures.
However, Lawwell says that changes are being suggested among clubs in the likes of Scotland, the Netherlands, Denmark, Belgium and Sweden that would help address the financial disparity between them and their counterparts in Europe's top five leagues - England, Spain, Germany, Italy and France.
"There is a thought that we should be expanding the Europa League, that European football takes a bigger chunk of the calendar and your domestic [game] becomes smaller," Lawwell said.
"You have to have more games in Europe. We should be looking to export Scottish football to a European competition - that's where the money and the interest and the competition is.
"We've got to look at bringing in new money. The transformer may come through greater participation in Europe and giving more access to Scottish clubs.
"Including gate money, sponsorship, the central pool, it could be between 8m and 10m euros for a club like Aberdeen. That is transformational.
"There is recognition that clubs like Celtic and Ajax and others have an important part to play. A study showed we were the eighth highest attendance in Europe last year - that's remarkable. Rangers were 11th or 13th, that's two clubs from the one city in a European context.
"We need an opportunity to exploit the strong fundamentals of Scottish clubs."
'We define ourselves as a Champions League club'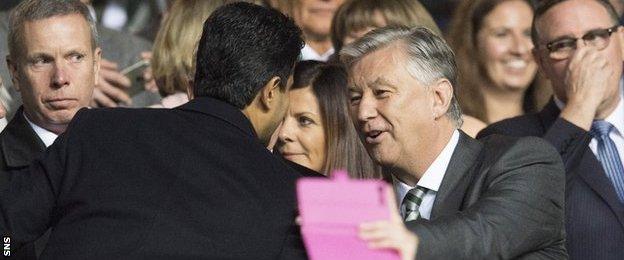 Lawwell cites Paris St-Germain as an example of the changing face of European football. The French club's president, Nasser Al-Khelaifi, is also on the board of broadcaster BeIn Sports and film company Miramax.
"Nasser, who I know very well, describes what they're doing as a movie. They're an entertainment company and they're going to take these products around the world," added Lawwell.
"He's got the broadcaster, the creativity from the production company and he's got the content through his club and Neymar. These are substantial changes in how global clubs are going to view football. We want to be part of that.
"We define ourselves as a Champions League club in everything we do, our standards, our values, how we run the club, the organisation. When you go round Europe, we are regarded as such, a top-class European football team, our history, our tradition is second to none.
"There are a lot of discussions in terms of format for the Europa League, from 2024 onwards it's a clean sheet of paper and we're planning to be part of that."