Alex McLeish: New Scotland boss hopes to get Tartan Army 'onside'
Last updated on .From the section Scotland333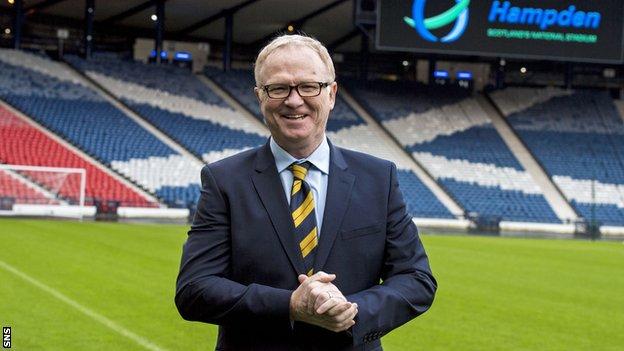 Alex McLeish insists he is the "right man" for the Scotland head coach job and hopes he can bring dissenting fans round to that view.
The 59-year-old will lead the Scots into their Uefa Nations League and Euro 2020 qualifying campaigns.
"I can understand that opinion can be divided but it's up to me to try and get those guys onside," he said.
"I hope that the Tartan Army can come to, I wouldn't say forgive me, but I hope they can come round and say, 'McLeish is right, he is the man for the job'.
"A lot of people would say, 'he left us so he's persona non grata' but I'm here and I'm here to do the business.
"I had pretty good success [in England] in a real whirlwind of four or five years or so with promotion, a Carling Cup, ninth position Premier League and it was all really fighting fire as well with no budgets or anything.
"That's why I feel that my experience has been greatly enhanced and that I can help the Scottish nation to get to the Euros."
'It's meant to be'
The Scottish FA were unsuccessful in their attempt to recruit Northern Ireland manager Michael O'Neill prior to appointing McLeish.
"My name has always been in there," former Rangers, Genk and Zamalek boss McLeish told BBC Scotland. "I was waiting on a call.
"I actually thought Michael might turn it down and I would get the job and I believe I'm the right man for this job.
"He was the first choice, I accept that. I see it as a bit of fate and it's meant to be. I've got to make the most of that and I believe that I can do.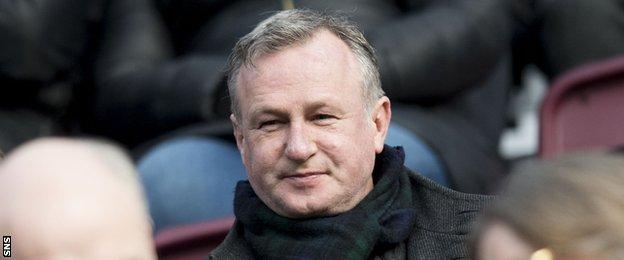 "Even when I went to Belgium and Egypt for a couple of years, I worked with teams with half a chance. That was why I went and I had pretty good success rates with them - 50-odd% rate in Belgium and 60-odd in Egypt.
"I really enjoyed the stints there and I said when I came back that that's the kind of challenge I want domestically and when nothing of that ilk came in England and then all of a sudden Gordon left the Scotland job, I thought, 'that's a challenge that I would absolutely love'."
McLeish's first games in charge will be against Costa Rica and Hungary next month, followed by further friendly matches in Peru in May and Mexico in June.
His debut competitive games will be the Uefa Nations League encounters against Albania at home on 10 September, then in Israel on 11 October.
McLeish's former Aberdeen and Scotland team-mate Strachan was unable to end Scotland's long wait to get back to a major tournament, which now stretches back almost 20 years.
However, the Scots have not lost a competitive match since November 2016 and have won four of their past eight games.
"I think we missed [World Cup qualification] by a whisker there and Gordon Strachan had a great 2017," McLeish explained.
"There are a lot of exciting youngsters coming through with pace and energy. I'm not saying they'll be going straight into the team but it gives me a lot of hope.
"He was very close to it. If I can carry that momentum on, then I've got these guys a year older and getting more experience and they're surely going to be at a better level and that's why I feel it gives us a better chance, mixed of course with the experienced guys and the tactical nous that these guys have."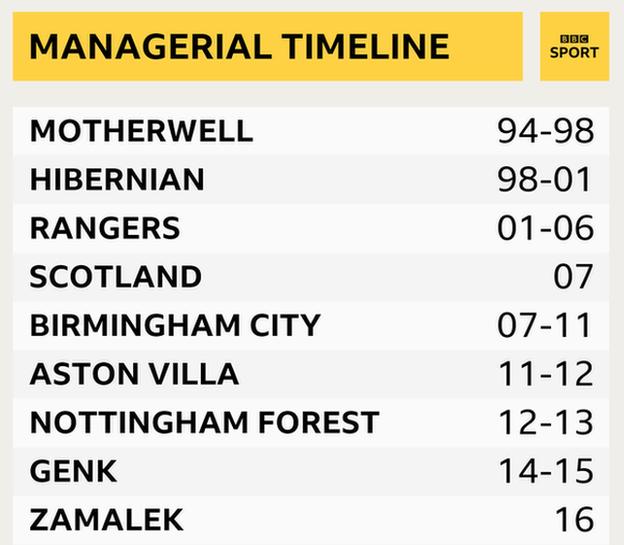 'Not a resuscitation job' - analysis
Former Scotland manager Craig Brown on BBC Radio Scotland
It's an excellent choice. This is a maintenance job because the team has actually been playing quite well in the last year or so and the results have been favourable. So, it's not a resuscitation job to take over the Scottish team at the moment.
We have got to get the national team of Scotland to qualify and therefore we've got to get a top manager, the best we can and I do think, under the circumstances, we have the best we can - an experienced guy who wears his heart on his sleeve, he knows the game inside out, he's been at international level 77 times [as a player] with Scotland, he's managed the team successfully.
I do think now we've got a man who can take Scotland to the next major tournament coming up and that will develop the game massively. t's the the national team which is the important factor in terms of development of the game and interest in the game.