Chester FC: Fundraising game brings in £25,000 for financially-troubled club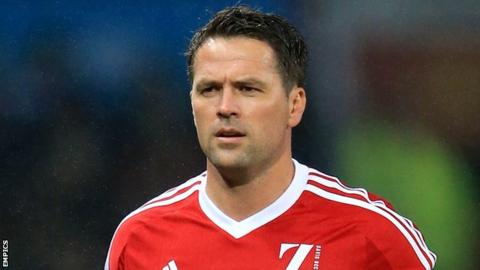 A fundraising match for financially-troubled National League side Chester FC has earned £25,000.
A Chester Select side led by former England striker Michael Owen beat an All-Star team 4-1 on Thursday.
Chester have now raised £75,000, having announced in January that they needed at least £50,000 to survive until the end of the season.
Meanwhile, an FA tribunal has awarded the Blues £22,500 for the departure of striker James Alabi, 23, to Tranmere.
"We need to get the club to the end of the season in one piece and then we'll worry about the rest of it afterwards," Owen told BBC Radio Merseyside.
"The club is in a little bit of a financial state at the moment, but nothing hopefully that they're not going to be able to solve, and if we can do that from between now and the end of the season we can then look to the future."