Guernsey FC: 12-game record winless run not concerning boss Tony Vance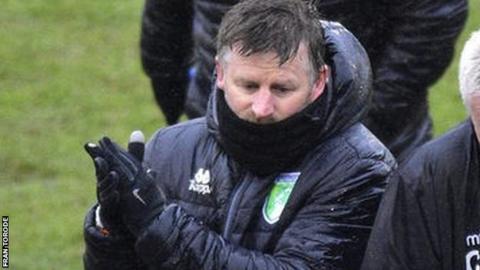 Guernsey FC boss Tony Vance is not worried about his side's record winless run after a 2-2 draw at VCD Athletic.
The Green Lions have failed to win any of their last 12 matches - stretching back to 2 December.
But with only one side being relegated from Isthmian League Division One South, 20th-placed Guernsey still have a 22-point buffer to the bottom side.
"The fact we haven't won, I'm not too concerned, that win will be around the corner at some point," he said.
"We've got 12 or 13 games to go and we're relatively safe, we know what we're trying to achieve over the next couple of years, it's a difficult league."
Guernsey had been 2-0 up after Dave Rihoy struck either side of half-time, but VCD hit back with two goals in the final 25 minutes.
"We were in a winning position, I get that, but ultimately it's still a very good point for us and we'll go again in the next game," Vance added to BBC Radio Guernsey.
"We've got some tough encounters coming up, but we've also got some winnable games as well, so we'll keep nicking points here and there hopefully."