Welsh football: Leagues restructure confirmed by FAW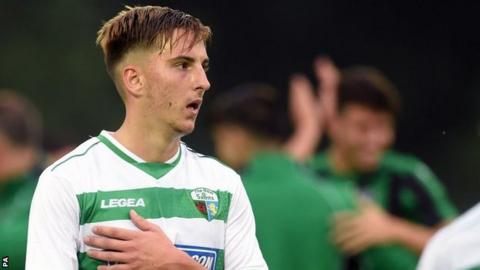 The Football Association of Wales has voted in favour of restructuring the Welsh football leagues.
The restructure will see 108 clubs involved in the top three tiers.
Twelve teams will still feature in the Welsh Premier League, with two 16-team leagues in the second tier, and four 16-team leagues in the third tier.
The new pyramid structure will be implemented through a phased approach over the coming seasons, beginning in 2019-2020.
The changes to tier two will be implemented in time for 2019-20, and the tier three adjustments will be made in time for 2020-21.
Both Leagues in tier two will see the champions promoted, with two clubs from the Welsh Premier relegated. Six clubs will be promoted from tier three, the champions from each league, and two runners-up, following play-off games.
The FAW Council hopes the changes will help address some of the challenges experienced at a local, regional and national level.
Common complaints about the current set-up include an imbalance between the number of clubs and leagues in certain regions, inconsistencies associated with promotion and relegation and long travelling distances for teams.
"When you look at the existing pyramid it's quite unbalanced. So we've pretty much started from a blank sheet of paper, with a model that best suits the domestic game in Wales, and the challenges that the clubs face at the moment," said Andrew Howard, FAW head of competitions.
"The main outcome is it will lead to stronger and more sustainable clubs, and that's a key objective for the FAW."