Gary Owers: Torquay boss says referee 'not good enough' after Sutton loss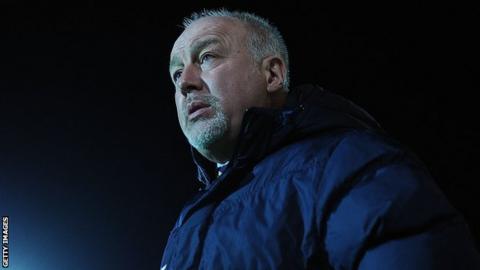 Torquay United boss Gary Owers says the referee in charge of their 3-2 loss to Sutton United is not good enough for the National League.
Sutton levelled at 2-2 in first-half stoppage time after the Gulls had taken the lead through Brett Williams.
And the visitors won the game after Sam Allison awarded them a penalty added time at the end of the second half.
"He's not good enough for the level, we've had him three times," said Owers, who took charge in September.
"He causes chaos, it's chaotic whenever he referees, so do what you need to do? He's not good enough for the level, he shouldn't be here."
The loss left Torquay second-from-bottom and nine points from safety, having played at least one more game than all their relegation rivals.
"I'm absolutely furious," said 49-year-old Owers.
"The first goal, he's put two minutes up and they score 47 minutes and 50 and he's making some excuse about where 50 seconds comes from.
"Is it a penalty? I don't know, but he didn't find 50 seconds extra, he blew straight away."
However, Owers admitted his team's cause was not helped by their own defensive errors, having recovered from conceding an early goal to lead 2-1 just before the end of the first half.
"We should be going in 2-1 up and seeing the game through and we can't defend a basic throw-in, it looks too easy, and then again the last goal came from defending a throw in," he added.
"I'm getting earache left, right and centre telling us I should be doing this and that, I can't go on the pitch and move the players around, the have to take responsibility.
"We should get a point, we shouldn't lose the game, we shouldn't get nothing out of the game."