Ander Herrera: Man Utd midfielder could have bad injury, says Jose Mourinho
Last updated on .From the section Man Utd377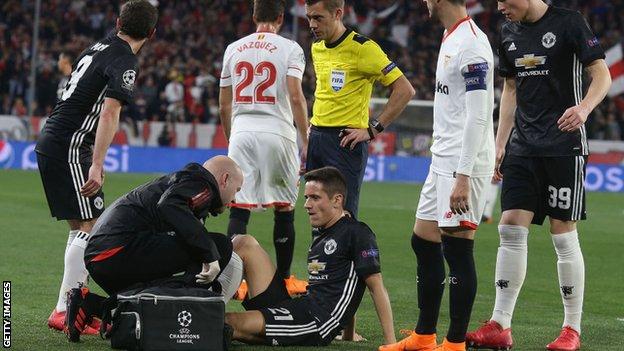 Ander Herrera could have a "bad injury", says Manchester United boss Jose Mourinho after the midfielder was substituted in Wednesday's Champions League goalless draw at Sevilla.
The Spaniard picked up a muscle injury 17 minutes into the last-16 first-leg tie and was replaced by Paul Pogba.
Herrera had returned from injury after missing games earlier in February against Newcastle and Huddersfield.
"It didn't look like he was fully fit," said Mourinho.
"I think he has a bad injury. He had a small injury that stopped him for the last couple of matches, but the medical department gave him 100% ready for last Saturday [against Huddersfield in the FA Cup]."
The Portuguese manager added: "He looked fit [on Tuesday] and the way he was playing during his time on the pitch - he was pressing a lot, really high - you only do that when you feel good.
"Then it was a back-heel, and a back-heel creates a contraction in the muscular area where he had the biggest problem, and now we have proof that he was not 100% fit."
Manchester United are already without defenders Phil Jones and Marcos Rojo, midfielder Marouane Fellaini and forward Zlatan Ibrahimovic because of injury.
'Pogba gave a good effort'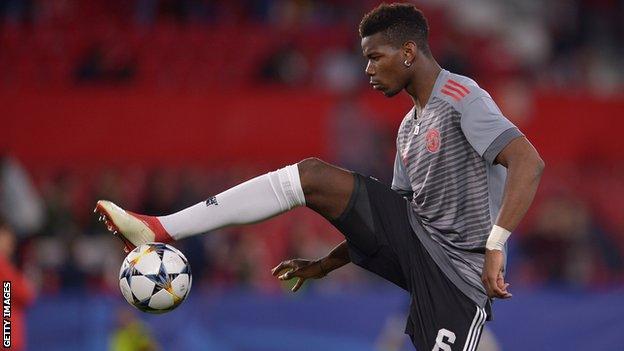 Pogba had dominated much of the build-up to the game after he was left out of the starting XI.
The £89m midfielder has struggled for form recently while there have been reports the France player wants to leave the club in the summer, speculation that Mourinho called "lies".
Pogba was left out of the squad for Saturday's 2-0 FA Cup win at Huddersfield. Mourinho said the player made the decision himself which led to "creating some doubts" for the Manchester United boss for Wednesday's game.
Pogba had little impact on the game against Sevilla after he came on, although it was difficult for him to contribute with Manchester United set up quite defensively.
Mourinho, however, was satisfied with Pogba's contribution.
"I think Paul made a big effort to try to give the team what I asked of him," he said.
"Paul replaced Ander, he tried to bring to the game the same kind of qualities. He lost a couple of possessions but he also gave us stability because we had a good percentage of possession for the way we played.
"I think the three midfield players had a good game and Paul was part of it."
Not the Man Utd team of old?
Former Arsenal striker Ian Wright, speaking on BBC Radio 5 live, said he would be "disgusted" if he was a Manchester United fan.
United were not adventurous and only had six shots - one on target - to Sevilla's 25, with eight on target. The pacy Marcus Rashford and Anthony Martial were only late substitutes.
And Wright thinks United are a far cry from team who won 13 Premier League titles under Alex Ferguson.
Wright said: "The Manchester United sides I used to play against tried to attack you.
"If you look at the players they have - Marcus Rashford, Anthony Martial, Alexis Sanchez, Romelu Lukaku being backed up by Paul Pogba - wouldn't that frighten you?
"United should be doing better with the players got they've got. I'm baffled with the sterile football. If I was a United fan I would be disgusted.
"Jose Mourinho talked about experts in football. You don't have to be an expert for anyone involved with English football in the past 25 years to know that this team are nowhere near those past sides.
"I championed the Jose Mourinho appointment as I thought with the way he left Chelsea he would have a point to prove. It has just been more of the same."