Manchester City: Pep Guardiola to continue to wear yellow ribbon
Last updated on .From the section Man City
Manchester City manager Pep Guardiola will "always" wear a yellow ribbon in support of imprisoned politicians in Catalonia - despite being charged by the Football Association for doing so.
The former Barcelona coach was given two formal warnings about the issue in December but has not been dissuaded.
He has until 18:00 GMT on 5 March to respond to a charge of breaching kit and advertising regulations.
"Before a manager, I am a human being," the 47-year-old Spaniard said.
"They [the FA] know I'll wear the yellow ribbon always. It's not about politicians, it's about democracy; it's about helping the people who didn't do absolutely anything."
The charge was triggered when Guardiola again wore the ribbon on his jacket pitchside - he is free to wear it elsewhere - during City's shock FA Cup defeat by Wigan.
He wore it again on his jumper - under his coat - during his side's Carabao Cup final win over Arsenal on Sunday.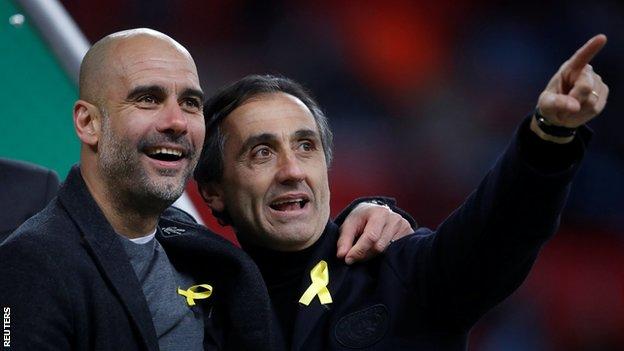 "I can wear it somewhere else, not just on my chest. They know I'll wear it," he said.
"If I broke the rules, I accept the fine. There are four guys in prison. There are other guys, who are outside of Catalonia; when they come back, they are going to be jailed, imprisoned for rebellion and sedition.
"Uefa has another opinion regarding these issues. They say you can wear anything as long as you show it with respect. Here, apparently, it's different."
Analysis
BBC sports news correspondent Richard Conway
Uefa's ruling is that political symbols are only liable for a disciplinary charge if they are deemed offensive. That's quite subjective, but gives them wriggle room in situations like this.
So how does this fit in with the FA's lobbying to end the ban on displaying poppies? The FA insisted from the start that is not a political symbol, whereas Guardiola has made no bones about saying the yellow ribbon is.
In hindsight, the FA should have aligned its regulations with Uefa last year but now feels duty-bound to pursue this case as it is a prima facie breach of its rules.