Celtic: Brendan Rodgers' holiday jibe is fighting talk as he sidesteps the flak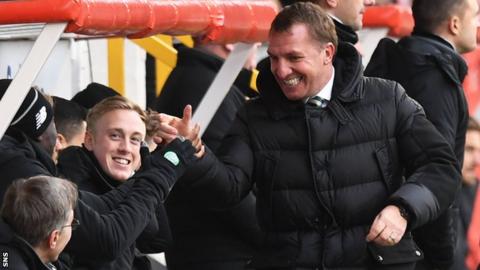 "We are on an even keel with other teams now as there are 10 games to go in the league and some teams around us have been on holiday for a year with virtually one game a week."
Celtic manager Brendan Rodgers after his side's 2-0 win over Aberdeen on Saturday
At around 10 minutes into the second half at each and every Aberdeen home match, there's a natural phenomena that occurs that brings nature and football together.
Gaze upwards and you'll see a sky full of dog-sized gulls gathering for their post-match Pittodrie feast. As the game grows older, so the gulls swoop lower.
Years of experience stand as a substitute for any stopwatch. They just know.
As Brendan Rodgers emerged from the tunnel to conduct his media duties following his side's victory over Aberdeen, they were already polishing off the half-eaten pies and pecking at chips discarded in disgust. The Celtic manager, bristling with pride at a hard-fought victory, was well aware critics had also been circling before the birds had even appeared over Pittodrie.
The Northern Irishman has been textbook cool, calm and collected with the media since his arrival in Scotland. One or two, including myself, have had the Rodgers stare when he wants you to know he thinks you've crossed the line with a particular question, but he's endured no real cross examination - there's been no need.
Things have been going very well for the former Liverpool boss. Recently, though, eyebrows have been raised.
The dismal defeat by Zenit St Petersburg was preceded by some lacklustre league games where points were thrown away. Sitting at the top of the league, yes, but also staring down the barrel of three league games without a win for the first time since March 2016.
Were blips turning into a trend towards something more worrying for the Champions? Pre-match, I wasn't the only member of the media contemplating a post-match line of questioning that's been off limits due to complete domestic dominance. There was no need - his players delivered.
He had heard the discontent though - that was crystal clear. It could have washed over him, but he bit the finger without being poked.
Rodgers and his players believe the record-breaking achievements of last season should provide a heat shield from the critics. It probably should, but it's football.
If you don't believe me, just ask Claudio Ranieri, ditched by Leicester City a season after winning the English title.
In victory, Rodgers is always full of praise for his players but quite often for the opposition too. This time, there was a direct and somewhat barbed message delivered for the rest of Scottish football to hear: we're doing it the hard way and it's still too easy!
The reference to other teams around him "being on holiday for a year" is a clear message about fixture congestion and a dig at the critics. It won't go down well in the dressing-rooms of Tynecastle, Ibrox or Easter Road, but it's a catch us if you can message and a reminder they now have no European distractions. A slap down to those who dared ask if the bubble had burst.
It also provided another insight into Rodgers on the offensive. We've caught glimpses of it recently.
He questioned the mentality of the St Johnstone players after they held his side to a draw - asking why they only raise their game against Celtic. Deflection, perhaps, but also, for the rest of Scottish football, evidence that he can be confrontational as well as complimentary.
After the night to forget in St Petersburg, he sat his players down to refocus and remind them of what is still up for grabs. He might also have pointed to the critics in a bid to create a siege mentality for the remainder of the season.
If he did, it worked. Led by a captain as fired up as I've ever seen him, they swatted Aberdeen aside for the 10th match up in a row and, in doing so, all but killed off talk of a title challenge. It won't wash Zenit out of the manager's hair completely, but those who have been circling to feast on failure will have to wait.