Scotland: John Souttar and John McGinn in Alex McLeish's thoughts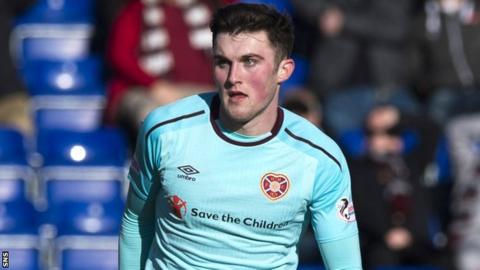 New Scotland head coach Alex McLeish says Hearts defender John Souttar and Hibernian midfielder John McGinn are high in his thinking.
McGinn, 23, has won five caps, but Souttar, 21, has yet to feature in a senior national squad.
"Boys like that we have to have a look at," McLeish said as he prepares to choose his first squad back in the job.
"There will be some kids who haven't been playing and we could be going out with some new faces."
McLeish, 59, is in his second spell as national team boss, 11 years after exiting for Birmingham City, after being chosen to succeed Gordon Strachan.
His former Aberdeen team-mate left after failing to reach this summer's World Cup finals in Russia and McLeish's first games in charge will be friendlies against Costa Rica and Hungary in March.
Those are followed by trips to face Peru and Mexico in end-of-season fixtures that have drawn criticism from some clubs.
"If we had qualified for the World Cup, we'd have been playing at that time anyway," McLeish, who was at Ibrox on Saturday as Rangers beat Hearts 2-0, told a Scottish FA podcast.
"I know that the failure of not qualifying may rankle with clubs saying, 'you now have to respect us', and I understand that stance, but it'll be positive for somebody.
"It could be positive for some of the young kids who have been playing.
"We could be going out with some new faces, some might be left behind, some have maybe had a long season and need a longer rest - some of the older players - and we need to see what these guys can really offer at that kind of level.
"I'm sure something good will come out of it. It is no use saying that it was a trip we shouldn't have organised. We've got to embrace it."
McLeish, speaking before Celtic midfielder Scott Brown announced he is retiring from international duty at the age of 32, said that performance director Malky Mackay had briefed him about the squad.
"Malky's gave me the dossier of players - right down to under-16s," he said.
"What has been a breath of fresh air is the emergence of some players up here in the Premiership - McGinn at Hibs, Souttar, guys like that.
"The thing I've always thought was important was: I've got to see them with my own eye, because I've never really had a success rate when I sent scouts away to watch a player and they came back and said I have to sign him.
"Sometimes I did sign them and I ended up disappointed.
"I know I can't go to everything, but I'm going to try to see as many as I can in the flesh in the coming weeks.
"Yes, there are a couple of positions where we are short of bodies, but I'm sure we can overcome it."
After seven wins in 10 matches in charge of Scotland in 2007, McLeish left to join Birmingham in England's top flight. He realises that some Scotland fans have never forgiven him.
"I can understand that opinion will be divided," he added. "I went down to England and it was seven months until the next tournament and I was itching to get back to day-to-day coaching and I felt that I couldn't resist having a go at the Premier League.
"Some people ask if I have regrets, but how can I regret having an automatic promotion, a ninth position in the Premier League, Birmingham's highest ever, a Carling Cup win against Arsenal and keeping Aston Villa in the Premier League?
"I think I have come back a better manager and I have come back to the Scotland job with more experience.
"I have had offers. I had been doing a lot of firefighting in England and these are draining on your managerial career and your health and your mindset.
"That's why I turned those down and said I am not doing that again."