Michael Carrick: Manchester United midfielder to retire at end of season
Manchester United midfielder Michael Carrick has announced he will retire at the end of the season.
Carrick, 36, has played 463 times for United since joining from Tottenham for £18m in 2006 and won 34 England caps.
"There comes a time when your body tells you it is time to stop. That is where I am at," he said.
Carrick added it was "looking likely" that he will take up the club's offer of a first-team coaching role at the end of the season.
In January, manager Jose Mourinho said he would be "very happy" if Carrick decided to stay at the club in a non-playing capacity.
He has been restricted to only four appearances this season because of an irregular heart rhythm.
Carrick said: "After the heart issue, I had two or three days thinking 'am I going to carry on?' I got back fit and wanted to finish on my own terms.
"I need to keep myself fit and ready. Hopefully I can get some game time and I am still enjoying training. I am trying to help a lot more because I understand where I am at."
Carrick joined West Ham as a youth player and made more than 150 appearances for the Hammers before moving to Spurs in 2004.
After two seasons at White Hart Lane, he secured a move to Old Trafford, where he went on to win five Premier League titles and the Champions League and became club captain following Wayne Rooney's departure to Everton in the summer.
He also lost two Champions League finals to Barcelona in 2009 and 2011.
Last season's Europa League triumph completed Carrick's sweep of domestic and European club trophies.
In his 12 years at United, he has scored 24 goals and was given a testimonial by the club last June.
Despite his success at club level, Carrick made just one appearance at a major tournament for England.
'An incredible career'
Former Manchester United midfielder Owen Hargreaves told BBC Radio 5 live:
Anybody who has ever played with him will say he is one of the best passers of a football they have played with. He was an exceptional team-mate and I got to know Michael in the England Under-21s while I was still at Bayern Munich. He really stuck out as someone with so much composure, his ability to pass a ball, and he was very humble and quiet.
The career he has gone on to have, the success he has had is not a surprise. He is one of those team-mates who you know exactly what you are going to get, especially if you play with him in midfield. You can trust him and he was one of the most unselfish players I played with.
He is a real player's player. If you asked Paul Scholes or Ryan Giggs, they would always say they loved playing with Michael Carrick because used to put the ball in the perfect position. He did not get enough credit for the defensive side of his game. He has had an incredible career - the longevity he has had and being in teams that won titles and trophies shows how remarkable he was.
The most underrated England player?
Carrick's international career never really took off. He made his debut against Mexico on 25 May 2001 and won the last of his caps against Spain on 13 November 2015.
He made only one appearance at a major tournament, in England's last-16 game against Ecuador at the 2006 World Cup, and was dropped for the quarter-final defeat by Portugal.
Carrick was largely overlooked by successive England managers Sven-Goran Eriksson, Steve McClaren, Fabio Capello and Roy Hodgson, with Frank Lampard and Steven Gerrard preferred in central midfield and winning 220 caps between them.
In 2011, he asked not to be considered for international duty, having not featured at the 2010 World Cup in South Africa.
He withdrew from contention for Euro 2012 after becoming disenchanted with his lack of opportunities for his country.
'A piano' and 'a Rolls Royce'
United manager Jose Mourinho: "He is phenomenal. It's a pity he is not 25. It's a pity you can't stop the clock."
Former United boss Sir Alex Ferguson: "I think Michael's the best central midfielder in English football. I think he's the best English player in the game."
Ex-United defender Gary Neville: "Scholes and Carrick together was peaceful. It was like going into a bar and hearing a piano playing. It's relaxing. Listening to some good rock is good and you like that too but sometimes it's nice to listen to a piano. Carrick's a piano."
Ex-United midfielder Paul Scholes: "He was like a Rolls Royce, just cruising around the football pitch."
Manchester City manager Pep Guardiola: "He is one of the best holding midfielders I've ever seen in my life by far. He's the level of Xabi Alonso, Sergio Busquets in Barcelona and Munich."
Arsenal manager Arsene Wenger: "One of my regrets is never having had him as a player because I think he was one of the greatest players in English football."
Carrick's career in pictures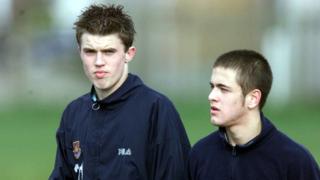 Michael Carrick came through the West Ham and was part of the team that beat Coventry 9-0 in the 1998-99 Youth Cup final