Graeme Murty says full-time referees could improve standards in Scotland
Last updated on .From the section Scottish Premiership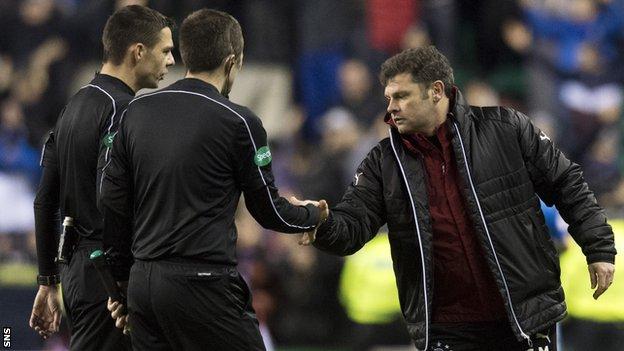 Rangers manager Graeme Murty has suggested full-time referees would improve the standard of officiating in Scotland.
Hibernian head coach Neil Lennon was sent to the stand on Saturday following the award of a controversial penalty against his side away to Kilmarnock.
Lennon called the decision "scandalous" and criticised refereeing standards this season.
Murty believes "a professional core of referees" would improve matters.
"Unless we get to that level we will continue having this conversation," said the Rangers boss and former Scotland and Reading defender.
"Until we have a professional core of referees in Scotland, who are training every day with financial backing commensurate to the task, they will find it difficult to reach the standards of the Premier League in England.
"That's nothing to do with their own desires or their wants - it's to do with the reality of being professional and getting paid to do a job.
"It's exactly the same as professional footballers playing at the top level with all the facilities behind him as opposed to a part-time footballer having to do a day job then going to play on the weekend."
Celtic manager Brendan Rodgers echoed Hearts boss Craig Levein's sympathy for Lennon.
Rodgers said: "I have seen a lot of strange decisions. The guys are doing the very best they can, but some of it I can totally understand where Neil would come from.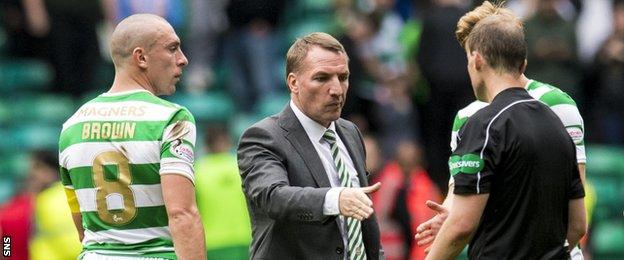 "He has obviously seen something clearly and for Neil it has probably been tagged on to one or two other incidents that has cost his team.
"It is understandable that frustration will come out at times. Sometimes, in the games, for managers and coaches, it can be so blatant, maybe not for referees.
"But if it continually happens it can be very concerning for you and of course that was his reaction because there was probably a catalogue of incidents for him.
"We have to try to somehow help the referees and improve the standards of everything. That is the job of managers and clubs, whether it is football pitches, officiating, club structures, it is to improve standards.
"Every manager and coach is the same. There is a rage inside you and some can maybe control it a wee bit better than others. But it is very, very difficult in that moment.
"I have stood on the touchline for thousands of youth games and senior games but it is still always a challenge when something goes against you."