Hibernian: Neil Lennon charged by Scottish FA and 'regrets' reaction to dismissal
Last updated on .From the section Hibernian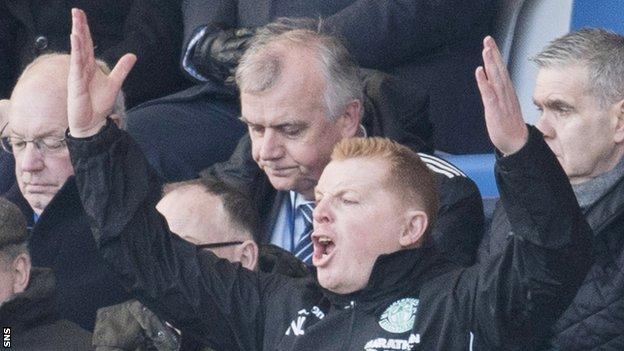 Hibernian head coach Neil Lennon says he "regrets" his reaction to being sent off by Kevin Clancy on Saturday.
Lennon criticised Clancy and refereeing standards after the 2-2 draw, and now faces two Scottish FA charges.
He has been cited for "misconduct at a match" and criticism of match officials after disputing a penalty award.
"I didn't agree with the penalty and I didn't agree to me being sent off. However, my reaction to the sending-off was regrettable," Lennon said.
A principal hearing date has been set for Lennon for Thursday 15 March.
The Hibs manager says the action taken by Clancy - after Lennon disputed with the fourth official the award of a spot kick - added "insult to injury" and that he sees other managers behave worse than he did at the weekend without any punishment.
"Even when you see the referee come over to talk, I disputed the decision at the time, like any other manager would," Lennon said.
"I told the fourth official what I thought of the decision and left it at that, as any manager does when there's a controversial decision like that. The penalty's taken, they score, I think nothing of it, next thing the referee comes running over, no conversation and you're off to the stand. Hence my reaction.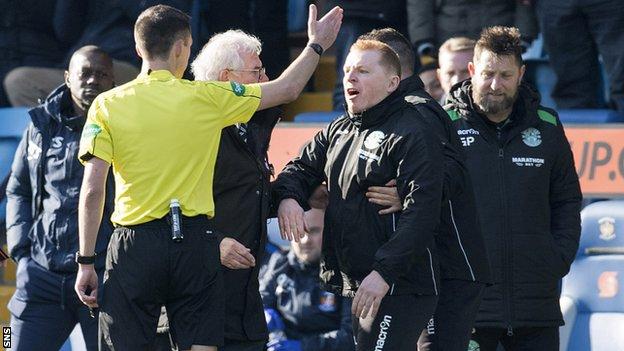 "I should have held my water. I can't affect the game then, because I've been sent off, so it's adding insult to injury. A debatable, controversial decision has gone against me, it's cost us a goal, and the next thing I can't do my job anymore.
"So it was a double whammy, hence my emotional outburst, if you want to call it that. I'm not proud of it, I'm not happy with myself about it, and I'm sure I'll get punished for it, but there are mitigating circumstances.
"We've had 28 league games this season and after 23, 24, I've gone to the delegate and said what a good game the referee has had. That doesn't get reported.
"It's nothing personal, I'm not doubting the integrity of any referee, I'm talking about what I'm seeing. What did he give the penalty for? Deliberate handball I assume. Does that warrant a yellow card? So why wasn't Ryan given a second yellow card and sent off? There's too much confusion.
Lennon also says there is a double standard being taken at the SFA. He claimed that Celtic manager Brendan Rodgers received an apology in a phone call when Ross County were awarded a penalty that denied the Parkhead club a win last season.
And yet no one from the SFA called to apologise after the Edinburgh derby when the match officials missed the ball crossing the line that would have given Hibernian a win.