Neil Warnock: An eighth promotion the drive to continue
Last updated on .From the section Cardiff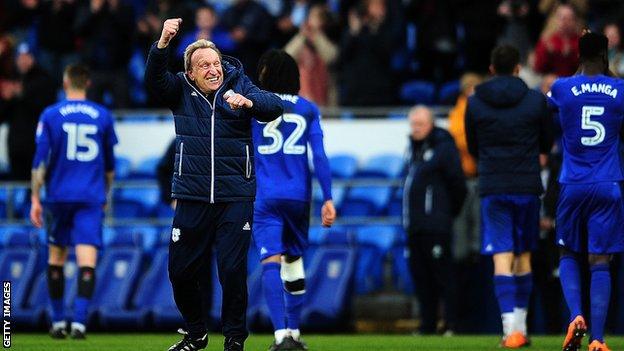 Cardiff City manager Neil Warnock says his new contract will help achieve his eighth promotion as a manager.
"It's not money, for me it's the opportunity to get that eighth promotion and if we don't go up this year we still have a hell of a squad for next season," said Warnock.
The 69-year-old signed a new deal keeping him at Cardiff until 2020.
"I've really enjoyed myself here and I feel there still is a job to be done," said Warnock
"If it had been the other way around and things weren't going well I think Mehmet Dalman knows that I would have looked elsewhere for that challenge because I think a couple clubs are looking for a manager, if not now then in the summer."
Warnock also said the Cardiff City fans played a big part in his decision to sign a new deal.
"I've enjoyed every minute," said Warnock.
"The fans have played a major part in my decision because every manager wants to be loved and although you can't please everyone, as long as I'm wanted by the fans and the board, I'll be here.
"If I didn't think the fans were behind me I'd have other things to do but it is a challenge and I'm relishing it."
The Sheffield-born manager added that he'd always wanted to manage the Welsh side.
"I've always thought, pulling up at Ninian Park, it felt like one of my clubs," said Warnock.
"The atmosphere when you're standing on the touchline looking around at the Welsh voices in full flow - I've always thought it was a Neil Warnock club."
'My Premier League record isn't that bad'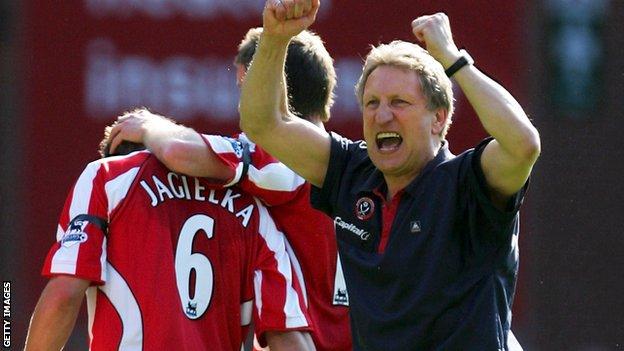 Warnock previously cast doubt over his future as Cardiff manager should the club achieve promotion to the Premier League.
The lifelong Blades fan has spent three spells in the top flight, as Sheffield United, Queens Park Rangers and Crystal Palace manager, however all were unsuccessful.
Some believe Warnock would not be the right man to keep Cardiff in the Premier League should they win promotion, however the veteran manager believes his record is better than most say,
"If you look at when I've been in the Premier League, irrespective of what people say about my record, it isn't bad," said Warnock.
"I got 38 points with Sheffield United and at Queens Park Rangers I was never in the bottom three but I got the sack."
Warnock said if his Cardiff City side win promotion, he will follow a similar approach as fellow English manager Sean Dyche has adopted at Burnley.
"I look at Sean Dyche, who I speak to quite a lot, and I admire him and he's done the things that I would do," said Warnock.
"Get a good group of lads working hard together and it's amazing what you can do.
"If we go up and we're struggling at Christmas something may happen but that doesn't bother me, the lads are a genuine bunch so you just have to ask them to do their best.
"Even if we don't go up we have to regroup and have another go because we have a good squad the lads are only going to improve."
No outside pressure on Cardiff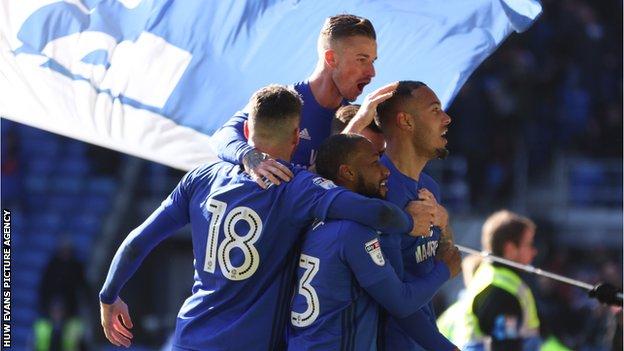 With just 12 league games left, Cardiff City find themselves in the best position to win promotion back to the Premier League since their relegation in 2014.
Despite their league position, Warnock believes the pressure is on the clubs around them.
"You concentrate on yourselves because other teams are going to have problems," he said.
"You can't tell me we are under pressure compared to Wolves, Derby and Fulham.
"What are we doing in second place with our wage bill and what's gone on in the past? It's a miracle.
"The pressure on us is within, we want to do well for the fans and I think it's a happy situation."