Craig Bellamy: Cardiff City academy coach out of running for Oxford job
Last updated on .From the section Cardiff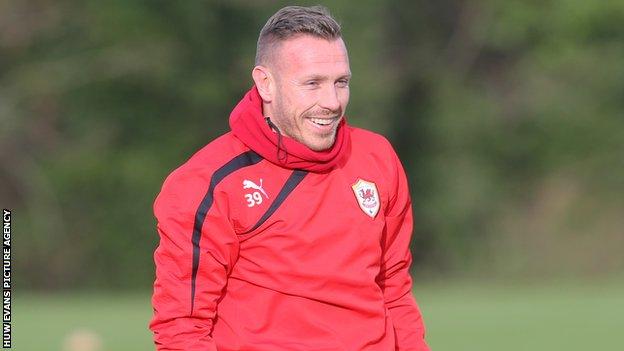 Former Wales captain Craig Bellamy has pulled out of the running to become Oxford United manager.
Bellamy, 38, confirmed he had agreed terms to succeed Pep Clotet.
But the former Wales captain has pulled out of the running following further talks with Oxford 's new owner, Thai businessman Sumrith Thanakarnjanasuth.
"I was always informed that it could happen down the road and last minute it came in after we had agreed," Bellamy told Sky Sports.
"That's fine because the welfare of Oxford United is way more important than the manager is going to be, even for myself.
"I had the opportunity to meet the new owner and after discussions it was different to the previous owners.
"That's normal in football. He wants to go about it his way and he wanted a little bit longer to think about it than me.
"To wait a few more days or another week would have not been fair to myself, Cardiff or Oxford. I just felt it was right to pull out at this time."
Bellamy is now an academy coach at Cardiff City having retired as a player at the end of the 2013-14 season.
Cardiff City's chief executive Ken Choo revealed that permission had been granted for the club to approach the former Liverpool, Manchester City and West Ham forward.
"I think they had preliminary talks and I don't think he felt comfortable at that point to move there," said Choo.
Choo said Cardiff are committed to helping Bellamy progress as a manager wherever that path may take him.
"I spoke to Craig and we want him to develop as a manager and we think highly of him," said Choo.
"There are some ownership changes at that club [Oxford United] so at the moment there is no change in his employment here.
"He knows that if he wants to develop his career as a manager he needs to start somewhere and we would definitely support him whether within the club or external."
Bellamy is expected to remain in his youth-focused role at Cardiff City Stadium, where veteran manager Neil Warnock this week signed a new two-year deal.
Hoilett set to stay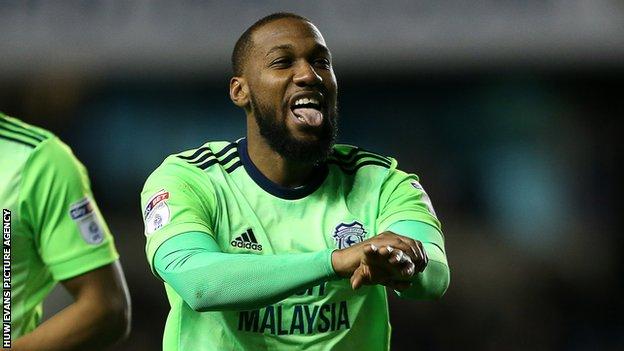 Choo has also revealed top-scorer Junior Hoilett has indicated he is ready to extend his stay at the club, with formal contract talks planned in the near future.
Canada international Hoilett sees his current deal expire at the end of the campaign.
The winger arrived in south Wales as a free agent in October 2016 - just days after Warnock's arrival as manager - and signed a one year extension last June.
Choo said: "Myself and Neil have spoken to Junior and Junior has informed me in the last couple of days that there is no problem extending my contract.
"I had this conversation with him and he has expressed incredible happiness with continuing his contract with us."