VAR: 'Comical' & 'embarrassing' review system criticised after FA Cup replay
Last updated on .From the section FA Cup758
It was described as "comical" by former Tottenham midfielder Jermaine Jenas, while Spurs boss Mauricio Pochettino said he felt "sorry for the referee".
It's fair to say the video assistant referee (VAR) made quite an impact on Wednesday.
Controversy dominated the first half of Tottenham's 6-1 win over Rochdale in their FA Cup fifth-round replay, with a goal disallowed and a converted penalty overturned.
Son Heung-min was shown a yellow card for 'feinting' during his spot-kick, while Spurs team-mate Fernando Llorente was adjudged to have fouled a defender in the build-up to Erik Lamela's disallowed goal.
All this took place before the interval, six minutes were added on in stoppage time for video review delays, and fans booed as the half-time whistle was blown.
"The first half was a little bit embarrassing for everyone," Pochettino said. "I am not sure that system is going to help.
"I think football is about emotion. If we are going to kill emotion, it's not so happy what we have seen. My opinion is we have the best referees in Europe. The referee is the boss on the pitch and has the last word always."
How it happened - the main VAR reviews
Seven minutes: Fernando Llorente protects the ball for Erik Lamela, who is able to tap into the net. Referee Paul Tierney consults VAR for about a minute before the decision is made that Llorente fouled Rochdale's Harrison McGahey in the build-up.
22: Spurs winger Lucas Moura breaks into the box, dribbles past a couple of defenders and goes down under apparent contact from McGahey. It goes to review for a minute before it is decided there was minimal contact and no penalty is awarded.
23: Son's right-footed strike gives Tottenham the lead but there is yet another delay while VAR checks there is no reason to disallow the goal. The original decision stands.
25: Kieran Trippier is fouled by Rochdale's Matt Done and a free-kick is awarded. There is a delay before VAR decides the offence continued into the penalty area.
29: Son scores the penalty for Spurs but Tierney blows his whistle immediately and addresses VAR. Son is shown a yellow card and is deemed to have 'feinted' in the run-up to his spot-kick. The goal is overturned and a free-kick is awarded to Rochdale.
31: Rochdale's Stephen Humphrys equalises after he is played in by Andrew Cannon but there is another short delay while VAR checks there is no reason to disallow the goal.
45+5: A tackle by Erik Lamela on Callum Camps earns the Tottenham midfielder a yellow card but Tierney consults VAR to confirm whether a red card should be shown. The decision to award a yellow card stands.
47: Llorente scores and VAR is checked to ensure there is no reason to overturn the decision. The goal is awarded.
53: VAR is consulted yet again as Llorente scores Tottenham's third goal.
65: There is another brief delay as Tottenham's fifth goal - Son's second - is checked by VAR. The goal stands.
'Everyone was confused' - what the managers said
Tottenham manager Mauricio Pochettino: "If my opinion is important, I think there's a lot of work to do because we need to talk to explain. I see today everyone was confused. I am for new technology but be careful how it is going to change the game.
"It's difficult for the referee - I feel so sorry for the referee and more I feel sorry for the fans because it's so difficult to understand the situation."
Rochdale manager Keith Hill: "It was an education with VAR. I enjoyed it. I thought the confusion was as exciting as the way we tried to play. I understand VAR more now. I feel the referee needs protecting, it needs to be explained to the supporters.
"I knew what was going on but I do agree people in the stadium need to know what is going on. We haven't come up with an idea of people inside the stadium knowing what's going on.
"The supporters do need to be involved in the process. It would make the game better. Why are we hiding the decision? You have got to embrace it. I do think it will improve but we have to protect the referee."
Pundits' reaction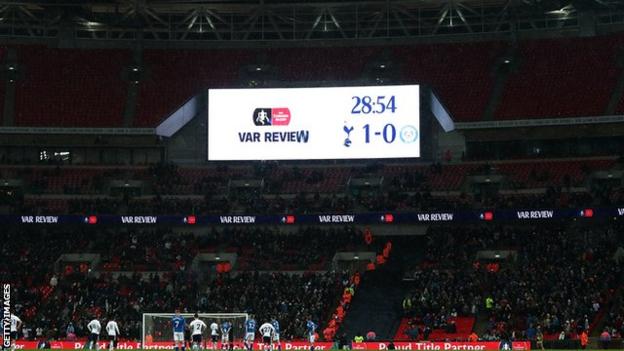 Former England and Spurs midfielder Jermaine Jenas on BT Sport: "VAR could be so good for the game. It's comical at times, how long it's taking and nobody knows what's going on."
Mark Schwarzer on BBC Radio 5 live: "Human error will still occur with VAR, other sports have shown that, but it dramatically reduces the number of errors.
"If we can limit the errors and get the game flowing as much as we can... I think to lose some fluency is worth it to get more of the decisions right. When it's straightforward, as it was in the second half, the referee could go through the goals quickly and there was barely a pause.
"VAR is good for the decisions the referee didn't quite get right or maybe didn't even see. People will still celebrate, players will still continue, but I think once we get more clarity I think it will flow better.
"My question is this, why complicate it? Why can't we copy the rugby and the cricket? It would cut out so much confusion."
Former Premier League referee Chris Foy on BT Sport: "What's been misconstrued is that VAR looks at match-changing instances. Every time a goal is scored it is automatically checked. The referee feels there is a foul by Llorente in the disallowed Lamela goal. Without VAR I think that goal would have stood."
What you had to say about VAR

We asked your opinions on VAR and you weren't shy about getting in touch.
Tony, London (about 15 minutes after the goal): Is there a maximum time after a goal has been scored that VAR can disallow it? Can I celebrate Llorente's first goal?
Matt, London: Football has died a little for me today. Don't underestimate the damage this does to the game. You can't compare to rugby or cricket, as football's unique selling point is that it's free flowing sport with high pace and limited stoppages. If this delay ridden mess is how the future looks then you'll have less kids putting jumpers down for goalposts in the future.
Cenzo, Fareham: They should mark fixtures that use VAR so we can avoid them. This is not football as we know it.

Paul: I'd sooner VAR (or the use of it) resulted in a few incorrect decisions rather than suffer an injustice of the magnitude of Lampard's non-goal against Germany at the 2010 World Cup. Defy any England fan to disagree.
Duncan, Isleworth: Despite all the criticism VAR has got every decision right. Could this match go down in history as the most perfectly officiated game of football in history?!
Chris Robins: The VAR process is farcical even when they get it right! Why don't they learn from rugby union who have the system spot on and everybody knows what is happening!
TimDYo: Can we get a VAR decision on the VAR?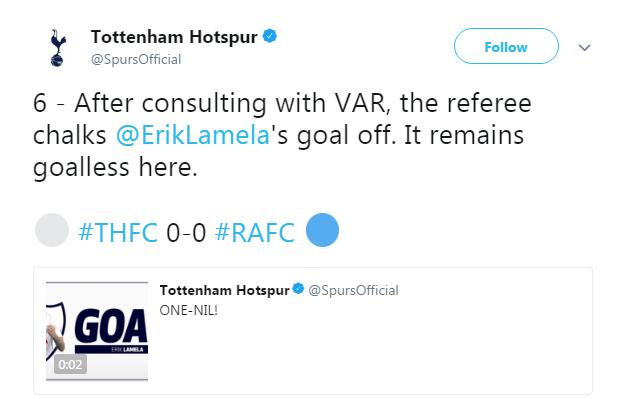 Charles Davie: Exactly the same luddite views about VAR were heard in cricket, tennis and rugby. It takes one season and then it's an asset to the game. Be patient.
Martyn Pritchard: At Wembley and not one fan knows what's going on. This is the main problem with VAR. What's the point of paying to be at the game when you have no clue what's going on?
Steven Shaw: From what I can see, it's not the VAR that's the problem, it's the way it's being used and the lack of communication. It's all very well saying that mistakes are part of the game but will that still apply if those mistakes start costing your team points? I think not.