Will Ferrell v Zlatan Ibrahimovic? Los Angeles FC prepare to face Galaxy on derby day
Last updated on .From the section Football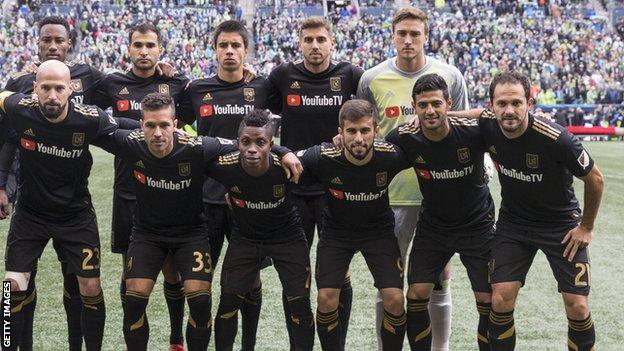 Celebrity owners, a brand-new stadium, a former Arsenal forward and ex-USA boss Bob Bradley - Los Angeles FC are a football club with a Hollywood sheen.
They are also Major League Soccer's newest team and on Saturday they face Los Angeles Galaxy in what will be the first LA derby between the two sides,
To add even more stardust to the occasion, Zlatan Ibrahimovic, who announced his moved to the Galaxy with a full page advert in the LA Times, could make his debut.
Before the game, BBC Sport spoke to Bradley and LAFC's Scottish midfielder Calum Mallace about making history with the club in its inaugural season, and meeting Will Ferrell.
'Will is just like he is in the movies'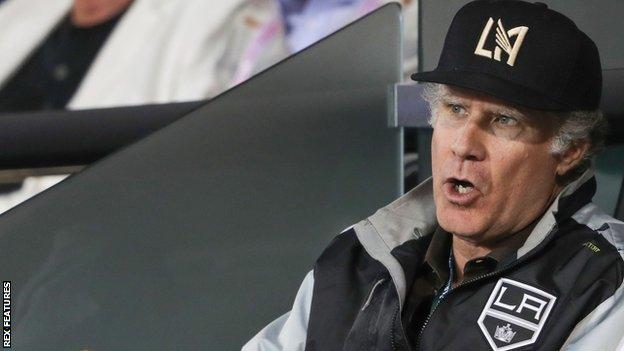 "This is not a joke," said Ferrell, when he became co-owner of LAFC in January 2016.
The actor, best known for comedy films such as Elf and Anchorman, is part of a 30-strong ownership group that also includes basketball legend Magic Johnson, ex-USA women's striker Mia Hamm, Cardiff City owner Vincent Tan and Chad Hurley, a co-founder of YouTube, who also sponsor the team's shirts.
It was in October 2014 that the MLS awarded an expansion franchise to the ownership group and just under four years later their inaugural season has begun, taking the number of MLS teams to 23.
"Everyone brings something different to the table," said Bradley. "It is an incredible ownership group, they are all totally committed to LAFC's vision and to have a team standing tall in LA."
The owners had a dinner with the players at the beginning of the season, allowing Mallace some one-on-one time with Ferrell.
"He is exactly like you would imagine, what you see in the films," said the Scot. "Everything that comes out of his mouth is funny. He is really invested in the club and wants nothing but success. He said he has already picked out his seat at the new stadium and is hoping to get to as many home games as possible."
Bradley added: "Will is a great guy, he's funny but is also a huge football man. He loves the game."
Bradley back in the dugout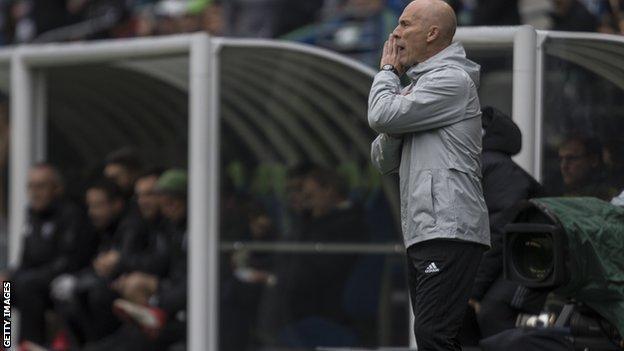 Bradley was the man chosen as the club's first manager, a sense of deja vu for the 60-year-old having also led Chicago Fire in their inaugural season in 1998, when they won the title.
"Not only do you have to build a team, but you have to create an identity and make sure there is a real connection with the city," said the former USA and Egypt coach.
"LA is a diverse city. You have to make sure as a team we represent the diversity of Los Angeles.
"You talk about the LA Lakers and the LA Dodgers, LA is a city that appreciates winning and regardless of whether we are a new team or not, you understand the yardstick in winning and proving it on the field, and I think every one of us understands that."
It is the American's first job since he was sacked by Swansea in December 2016 after just 85 days at the Premier League club.
"I have all sorts of different feelings about Swansea," said Bradley. "I want my teams to be fun to watch and exciting. I was determined to make that happen at Swansea, but you don't control timing.
"My chapter was cut short. At a certain point they felt we had not taken enough points, that is just the way it goes. I enjoyed working with the players. I still hear from people there and I still follow their matches."
Uruguayan Diego Rossi scored LA's first ever goal in their first ever MLS match, a 1-0 win against the Seattle Sounders on 4 March, which they followed with a 5-1 win over Real Salt Lake.
"Our target is to become a good team who play good football. Once that happens, I will see where it takes us," added Bradley.
'A club in the heart of the city'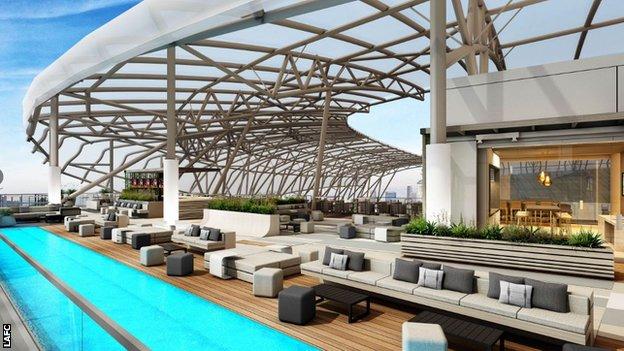 LA move into their purpose-built 22,000-seater Banc of California Stadium next month, with their first home game against the Seattle Sounders on 29 April.
The ground is located next to the historic Los Angeles Memorial Coliseum and is close to downtown LA, whereas the Galaxy are based 13 miles away in Carson.
"The stadium will be unreal," said Mallace. "The location is perfect. Galaxy play far away, not in the city, so we will be the first team to play in the city of LA."
The 'north end' supporters section will have safe standing and, at 34 degrees, is the steepest stand in the MLS, with ticket prices starting at $20 (£14).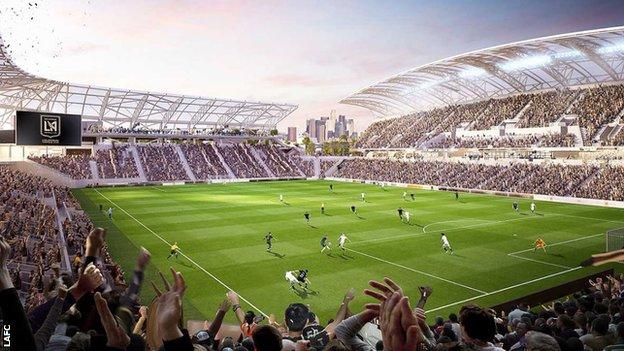 Despite being only two games into their existence, the club has built up a fanatical fanbase and sold out its season-ticket membership before a ball had been kicked.
An independent supporters' union has been formed, known as 'the 3252' - a nod to the north end's capacity.
"I have to give credit to the club's front-office staff for creating such momentum without there being a team, or stadium or players," said New Jersey native Bradley.
"Coming out from the beginning, the club has tried to connect with the heart of the city. We are so fortunate to have the stadium in the perfect location."
Mallace added: "You would think these supporters had been LAFC fans their whole life."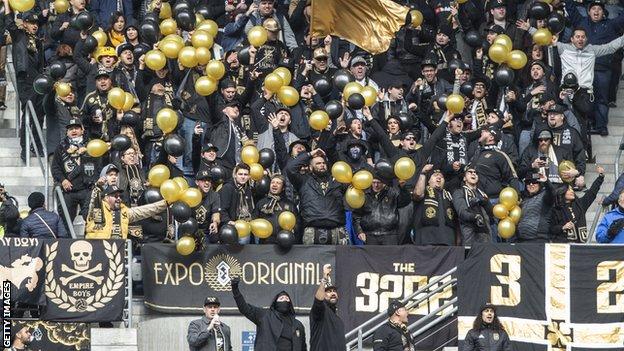 Derby day looms
Two wins from two and next up a trip to the StubHub Center, a match that Bradley said he had "circled on the calendar for a while" and is being referred to locally as 'El Trafico' in a nod to LA's notorious traffic problems.
"It is not a home match for us, but we get a chance to play our first match in LA," he added.
"I am excited for the derby. You look around the world and when you have two teams from the same city the match takes on extra significance. You add Ibra on top as well and it makes it even more exciting."
But can Bradley repeat his heroics from Chicago Fire's title-winning first season?
"It can be done, " he said. "We had a group that came together in all the right ways in Chicago and hopefully we can do it again."
Vela the star turn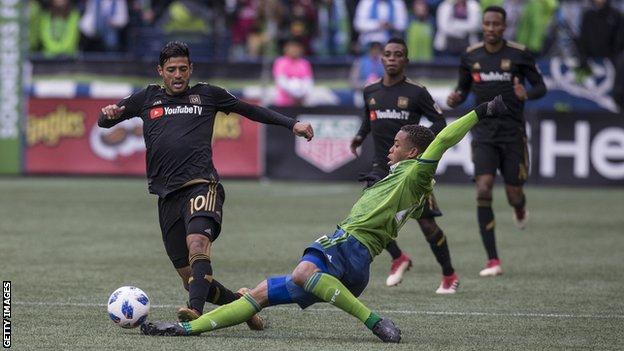 Carlos Vela is the club's star attraction having been signed under the designated player rule, nicknamed the Beckham Rule, which allows clubs to sign players that would be considered outside the team's salary cap.
The 29-year-old Mexico international spent seven years at Arsenal before moving to La Liga side Real Sociedad in 2012.
Bradley said signing the forward helped attract interest from LA's large Hispanic population.
Rossi, 20, came in as another designated player, after winning the Uruguayan Primera Division with Penarol, while Portuguese defender Joao Moutinho was drafted first overall by LA in the 2018 MLS SuperDraft.
Scotland fans might recognise another of the club's forward line with 28-year-old Marco Urena having scored the winner for Costa Rica at Hampden on Friday, to ruin Alex McLeish's return as Scotland manager.
But LA's Scottish representative Mallace could be on McLeish's radar if he has a successful season in the MLS.
From Torphichen to Hollywood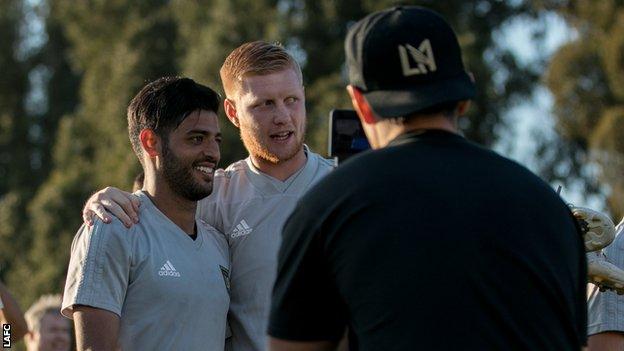 Mallace, 28, moved to the US from the central Scottish village of Torphichen (population 570) in 1999.
After coming through the American college system, he has gained a wealth of MLS experience and knows exactly what a new team is all about, spending six seasons with Montreal Impact from their inaugural year in 2012.
He was signed by LAFC in January in the MLS Re-Entry Draft, where out-of-contract players can be picked up.
"It's pretty crazy living and playing in LA," he said. "You have to take a step back from football once in a while and see how lucky you are to be doing what you are doing and where you are doing it - in Hollywood.
"It is exciting to say I have made history with a club, everything that happens is a first for the team."
Mallace, who missed the first two games with a knee injury, added: "Bradley hand-picked each player to be on the team. It is an honour that I got that call to be part of the puzzle he is putting together.
"The big dream is to pull the dark blue shirt of Scotland over my head at one point, so I need to do whatever I can from here to attract their attention."