Uefa cash boost for Northern Ireland clubs hit by floods
Last updated on .From the section Irish
Two football clubs in Northern Ireland devastated by floods last summer have received almost £200,000 from Uefa's natural disaster fund.
An annual budget of €500,000 is made available by Uefa for hardship support across Europe.
Championship club Institute in County Londonderry [€160,880] and Intermediate League side Ardstraw [€57,860] from County Tyrone have been given relief.
Institute were forced out of their Drumahoe ground due to water damage.
The club pitch, changing rooms and stands were destroyed by significant flooding last August, and the club is now playing at the home of North-West Junior League club Churchill United.
Ardstraw spent the last seven months fundraising to restore their pitch, perimeter fencing and clubhouse.
Uefa's Fair Play and Social Responsibility Committee awarded almost half of their natural disaster grants to the two Northern Ireland clubs.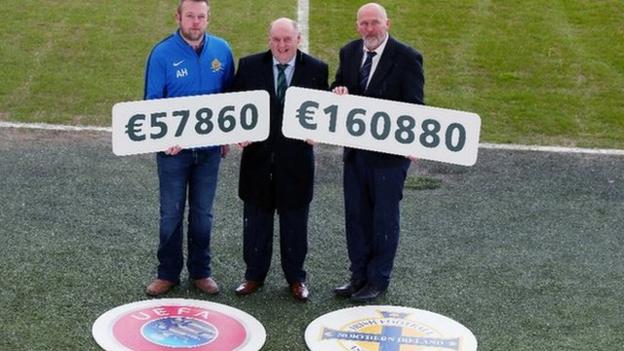 "It's great that European football's governing body is concerned about a small intermediate club in Northern Ireland and saw fit to give this award," said Ardstraw FC chairman Aaron Hempton.
President of the Irish FA, David Martin, praised Uefa for the "substantial support".
"Our membership of Uefa means that we were able to draw attention to the difficulties that the two clubs had endured and I am pleased that European football's governing body responded so comprehensively."
Institute FC Chairman Bill Anderson said the money will be "significant in our future plans as we seek to build a new home".