Man Utd's Scott McTominay has talks with Scotland boss Alex McLeish over future
Last updated on .From the section Man Utd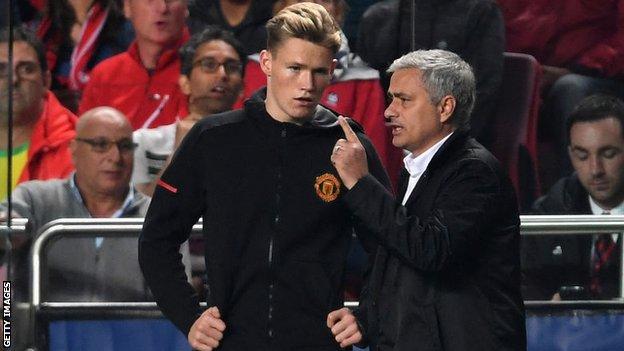 Manchester United's Scott McTominay met Scotland boss Alex McLeish on Thursday amid uncertainty over the midfielder's international future.
It is understood England boss Gareth Southgate will be at United's training ground on Friday to meet the 21-year-old.
McTominay was born in Lancaster but qualifies for Scotland through his father, who comes from Glasgow.
He is yet to play for either country at any level.
McTominay was selected by Jose Mourinho ahead of £89m record signing Paul Pogba for the Champions League last-16 draw with Sevilla last month.
He made his senior debut came against Arsenal in May and has played 17 games, including starting the past three.
McTominay, who has been associated with United since he was five, signed a new contract in October that will keep him at Old Trafford until 2021.
Speaking at his news conference before Monday's trip to Crystal Palace, Mourinho said he had no idea which nation McTominay would choose.
"My advice to him is not about national teams," he said. "My advice is to keep the way he is - very humble, very open to learn, intelligent, fight to have minutes.
"Playing for the national team is a consequence of work in the club."
Analysis
Ryan Giggs and Darren Fletcher are obvious recent examples of long-serving Manchester United players who never got the chance to appear at a major international tournament for their country.
The difference for McTominay is he has a choice. Land of his birth or of his father?
It is a tricky one. The path to greater exposure and financial gain comes via England. Yet, even if McTominay went with Gareth Southgate, there is no guarantee he would make the senior squad. He probably would at some stage. But he might not.
He could, however, be reasonably sure that getting a regular game for United will be enough to get him in the Scotland squad.
Squads for the March internationals are due to be announced next week.
McTominay has never been involved before. It will be fascinating to see which - if any - he is named in now.