World Cup 2018: Alexei Smertin says gay people and minorities will feel safe in Russia
Last updated on .From the section World Cup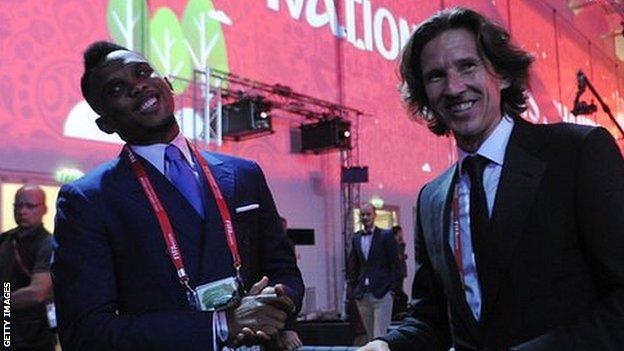 Gay people and minorities will feel "safe and comfortable" at this summer's World Cup in Russia, the tournament's anti-discrimination chief has said.
And Alexei Smertin has dismissed fears over racism and homophobia towards fans as "propaganda".
Earlier this year Russian club Spartak Moscow was sanctioned after referring to its black players as "chocolates".
And Russian lawmakers have been criticised for a 2013 law targeting the promotion of homosexuality.
But Smertin, a former Chelsea midfielder capped 55 times by his country, told BBC World Service Sport's Mani Djazmi: "Come over to Russia and your mind will be changed completely about Russia as a country, as a football country."
He said he had spoken to Spartak Moscow about an offensive official club tweet - for which its social media manager was later fined - and put it down to "ignorance". He pointed out the players referred to had not been offended - though it was accepted the language was not correct.
Last year, European football's anti-discrimination group Fare warned gay fans travelling to the World Cup not to show affection in public if they wanted to stay safe.
A law passed in 2013 banning gay "propaganda" has also drawn criticism - the European Court of Human Rights last year ruled it was "discriminatory".
But Smertin said: "Of course there are a minority who are quite aggressive against this but if you are talking about showing feelings, if you are talking about rainbow flags, it won't be prohibited in Russia during World Cup or afterwards.
"It definitely won't be stressful and we let everyone feel comfortable and safe in our country."
When asked if same-sex couples walking down the street holding hands or kissing would be seen as a problem, he answered: "No - this is just feelings."
Aleksandr Agapov, the president of Russia's LGBT sports federation, said it was "possible" gay and ethnic minority fans would avoid trouble at the showpiece event.
"But for us the question is the legacy of the World Cup, what will be after the World Cup?" he added.
"After the World Cup will be a routine life. The anti-gay law will still be there and we will still have the discrimination."