VAR: Video assistant referees set to be used at 2018 World Cup in Russia

By Richard Conway
BBC Radio 5 live sports news correspondent
Last updated on .From the section Football368
Video assistant referees are set to be used at this year's World Cup in Russia after football's lawmakers voted to approve the technology.
VAR has been trialled in some domestic English cup games this season, and has been used in Germany and Italy.
The International Football Association Board (Ifab) "unanimously approved" its introduction on a permanent basis after a meeting in Zurich on Saturday.
Leagues and competitions must now apply to Ifab to implement the system.
Fifa president Gianni Infantino said a decision on whether VAR would be used at the World Cup will be taken at a meeting on 16 March.
"As of today, video assistant refereeing is part of football," he said.
"We hope and encourage a favourable decision in this respect because we are very positive about VAR."
One of the concerns over VAR is that those watching are uncertain about what is going on, but Fifa says it is working on a system that will provide information to the "giant screen operators as well as broadcasters and commentators" about the reason and outcome of a review.
"What is our idea (for the World Cup) is that after the final decision is taken by the referee on the pitch we would like to show in the stadium the selected replay that was used by the referee and VAR," said Johannes Holzmuller, head of Fifa football technology innovation.
'It's almost perfect'
Ifab is made up of world governing body Fifa and the Football Associations of England, Scotland, Wales and Northern Ireland.
Each FA has one vote to Fifa's four, with six votes required for a change in the laws.
Saturday's decision was made after Ifab was presented with the results of independent analysis conducted by Belgian university KU Leuven.
"I would say to the fans, players and coaches that it will have an impact, a positive impact," said Infantino. "That is what the results of the study show.
"From almost 1,000 live matches that were part of the experiment, the level of the accuracy increased from 93% to 99%. It's almost perfect."
Infantino says he was "pretty much against" the system until he "studied it".
"We have looked into all the details and benefits it can bring," he said.
"Of course, we need to speed up the reviews and the communication to the referees that are applying it but also for the general public."
The Premier League is not expected to introduce VAR next season, and Uefa has already said it will not be used in the Champions League next season.
France's Ligue 1 is to introduce it from next season, while the Bundesliga will decide on 22 March whether to use VAR.
"In all my discussions with people in the Premier League, they can all see benefit of VAR," said Football Association chief executive Martin Glenn.
"If they do choose to not implement it then it won't be a fundamental rejection of VAR - it will be a case of giving it more time."
Ifab has also approved allowing teams to use an "additional" substitute in extra time of matches.
'Minimum interference - maximum benefit'
Ifab said the "philosophy" of VARs is "minimum interference - maximum benefit" with the intention of reducing "unfairness caused by clear and obvious errors or serious missed incidents".
It added the incidents that referred to would be in relation to:
Goal/no goal

Penalty/no penalty

Direct red card (not second yellow card/caution)

Mistaken identity (when the referee cautions or sends off the wrong player)
VAR was first used at the Club World Cup in December 2016, and trialled in the 2017 Confederations Cup.
The system was described as "comical" and "embarrassing" after Tottenham's 6-1 FA Cup win over Rochdale on Wednesday, when a goal was disallowed and a converted penalty overturned.
Any domestic league or competition would have to adopt VAR protocols for every game.
On Friday, the Premier League it was "monitoring closely the video assistant referee trials being conducted in other competitions".
It added: "The evidence and learning provided by those trials will inform further discussions with our clubs later this season."
'Greater fairness with the occasional interruption'
Ifab technical director David Elleray, a former Premier League referee, said 40 countries are using, trialling or interested in VAR technology.
Speaking before Saturday's Ifab decision, he told BBC Sport: "Football has to decide does it want to use a system which will bring in greater accuracy and fairness, albeit with some delay occasionally.
"Or do they want to stay where they are, where the fans are complaining that something is clearly wrong, everybody watching on television can see it was wrong, everybody in the stadium can see on their mobile phones that it was wrong, but the one person who needed to see the replay wasn't allowed to look at the replay?
"People have to decide do they want greater fairness or do they want continued unfairness because they don't want to occasional interruption?"
Infantino defended the time taken by the VAR to review decisions.
"Let's look at the facts," he said. "We've analysed almost 1,000 games and the reality is you lose an average of 90 seconds per game. Is that too long? Perhaps.
"But we lose an average of seven minutes per game due to throw-ins. If we lose seven minutes on throw-ins, we can lose 90 seconds to get decisions right."
VAR - for and against
For: better decision-making
Technology increased the accuracy of decisions that can be reviewed from 93% to 98.9%, according to figures from the trial released by Ifab in January.
Former Australia and Middlesbrough goalkeeper Mark Schwarzer said: "Human error will still occur with VAR - other sports have shown that - but it dramatically reduces the number of errors.
"If we can limit the errors and get the game flowing as much as we can... to lose some fluency is worth it to get more of the decisions right."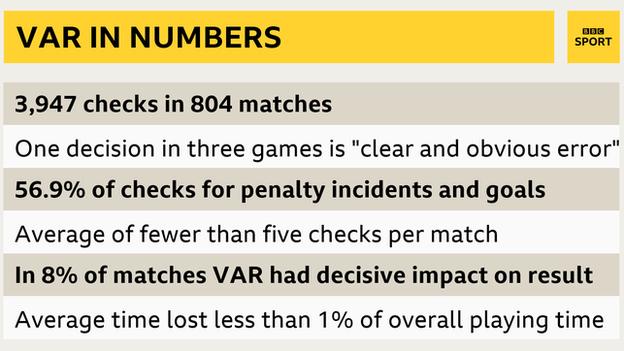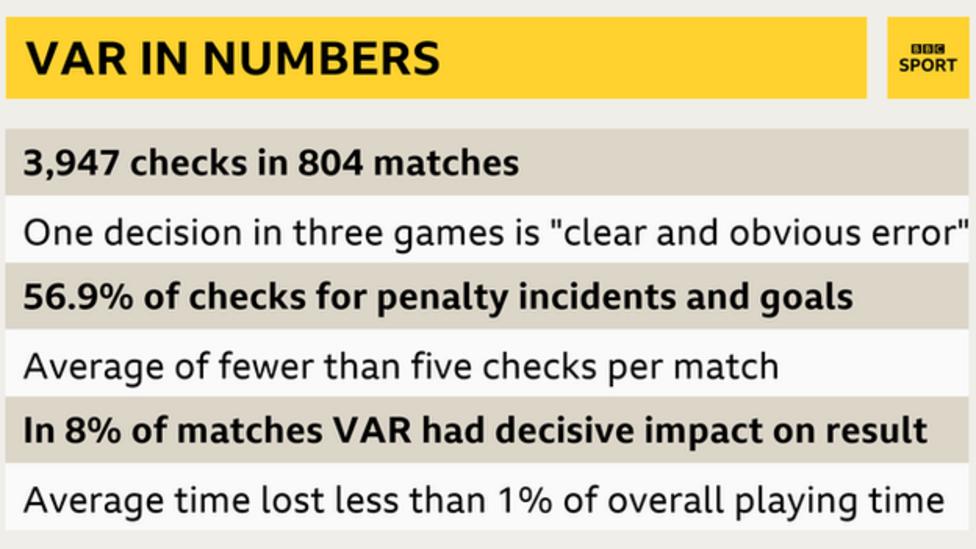 Against: delays and confusion
Tottenham's win over Rochdale was dominated by VAR controversies. Fans booed as the half-time whistle was blown after five minutes were added on for video review delays.
Tottenham manager Mauricio Pochettino said: "The first half was a little bit embarrassing for everyone. I am not sure that system is going to help.
"Football is about emotion. If we are going to kill emotion, it's not so happy what we have seen. My opinion is we have the best referees in Europe. The referee is the boss on the pitch and has the last word always."
Elleray said he cannot see a good reason for football to not use VAR in all matches.
"It's difficult for people to argue that if you've got a system which fairly efficiently can correct clear and obvious errors which affect the outcome of matches that we shouldn't use that," he said.
"Is it really right that football is the only major sport that doesn't assist its referees by using technology?
"Our crucial challenge is to do it in a way that is has a minimal impact on the game."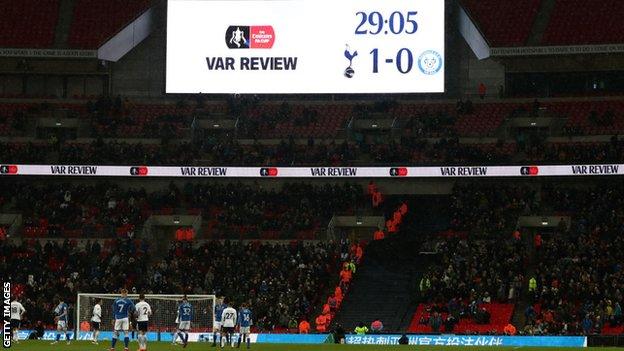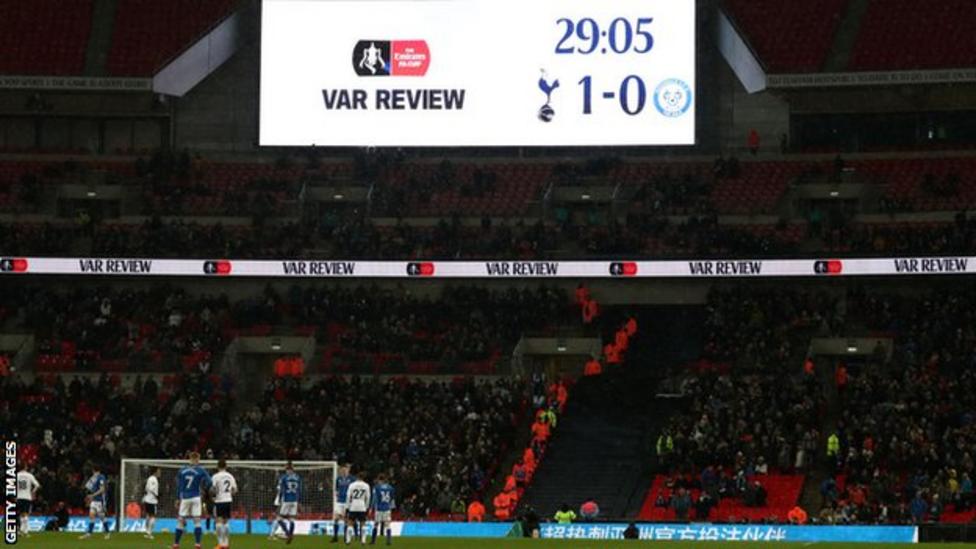 What has happened in England?
VAR technology has been used in 13 competitive matches - three in the Carabao Cup and 10 in the FA Cup.
Six decisions have been reversed - all in FA Cup matches:
16 January - Leicester City's Kelechi Iheanacho had a goal disallowed in the win over Fleetwood for offside, but it was then awarded after a VAR review.
27 January - In West Brom's victory at Liverpool, the referee and VAR consulted to rule out a goal for Albion's Craig Dawson for offside, and a penalty was awarded to Liverpool - which they missed - after the referee consulted the pitch-side TV monitor.
17 February - Juan Mata's goal in Manchester United's win at Huddersfield was disallowed for offside.
28 February - Erik Lamela's goal for Spurs was ruled out for a foul. Later, Tottenham were awarded a free-kick outside the penalty area, only for a spot-kick to be given after another VAR ruling. The penalty was converted but disallowed after Son Heung-min was adjudged to have stopped in his run-up before shooting.
A total of 14 incidents were assessed during the Tottenham match, including the two reviews, although officials say there has been an average of around eight per game in England.
What has been the reaction elsewhere?
Germany and Italy introduced VAR across their top leagues this season.
In the Bundesliga, poor application, delays and technical problems led to 47% of players wanting to abolish the system, according to a survey published in Kicker magazine in January.
Figures from the German league show VAR has been used in 216 matches. Decisions have been overturned on 46 occasions, but 11 were later found to be incorrect.
Gazzetta dello Sport described a "black Sunday for referees and VAR" after a series of controversies in Italy's Serie A.
But decisions which have been changed on video review could soon be shown on giant screens in Italian stadiums, offering fans more clarity.
The project's boss has said bookings for protests and unsporting behaviour had dropped since the system was introduced.
However, Uefa president Aleksander Ceferin said it will not be used in the Champions League next season.
"It might be a good project but we shouldn't rush it," he said.