'Morton need luck against Celtic'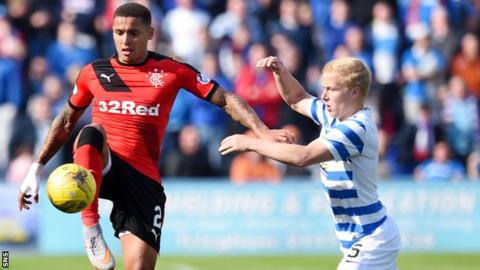 Morton midfielder Conor Pepper says that producing a tactical masterplan to face Celtic is a near impossible task.
But the Irishman believes recent meetings with the Old Firm could help when they face the holders in a Scottish Cup quarter-final.
"Teams try different things every week against Celtic," said Pepper.
"They might plan set pieces, or defend deep, or try and press - but you just need to play well, hope they're not at their best and get a bit of luck."
Pepper is still coming back from a long-term knee injury but hopes his team-mates can draw on experiences from recent seasons, whether they were wins or losses.
Morton beat Celtic 1-0 in the League Cup in 2013, but in 2015-16 the Greenock men went to Parkhead and lost 3-0 in the Scottish Cup.
In 2016-17, Morton lost 2-1 against Rangers at Ibrox in the Scottish Cup, after leading 1-0 through Michael Tidser.
Pepper, 23, has been helping coach Morton's under-20 team while he recovers from the knee injury that has come close to ending his career
He thinks the recent weather conditions could have mixed effects on Morton's performance.
"We had a game Tuesday night, then had Wednesday off and then it was too dangerous for the lads to get to training on Thursday," he said.
"Yesterday we did what we could but the lads have had some extra time off, so maybe there will be a little bit extra in the tank.
"It's hard not to be playing because these are the games we all want to play in. But you can use it as motivation as well, because that's why I'm going to the gym everyday and training to get myself back involved.
"I'll offer the lads any sort of experience I can and help them through it."