Rangers will 'relish' Celtic clash - Graeme Murty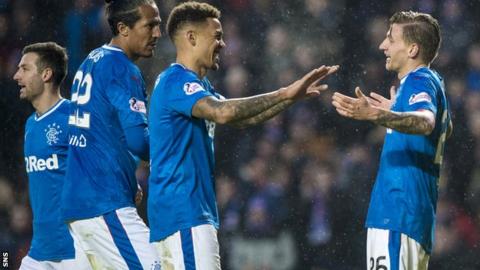 Rangers manager Graeme Murty says his side will "relish" facing Celtic after the two sides were drawn together in the Scottish Cup semi-final.
The Ibrox side beat Falkirk 4-1 to set up a meeting with their Old Firm rivals at the same stage for the third year running.
And Murty revealed his players cheered when they heard the draw.
"The sound that came out of the changing room when we were drawn against Celtic was vast," he said.
"The boys loved it. And that shows the mood they're in, the positivity that's going through the changing room and the upturn in our mindset that we're relishing the challenge of pushing on and being better than we were.
"That's a good sign for me and we need to make sure the games we have coming up between now and the end of the season remain meaningful. We don't want to taper off and die, we want to accelerate to the end of the season, have a really good run."
Rangers defeated Celtic on penalties in the Scottish Cup semi-final two years ago, before Celtic prevailed 2-0 in last year's encounter.
However, it is next Sunday's clash at Ibrox against Brendan Rodgers' side that is Murty's immediate concern, with his side six points behind in the Premiership title race.
Murty has recorded two Parkhead draws in two Old Firm derbies as manager.
He said: "The mindset going into the games at Parkhead were that we had to contain them at times but not be afraid to play our football at times.
"I think it's going to be the same for us here, albeit we might be a bit more aggressive in our selection or the way we're going to play.
"I think you have to be respectful towards their difference-makers and their skill players but you have to try and contain those guys and then not be afraid to unleash the guys that pose a threat for us."
The Rangers manager admits Jason Cummings' hat-trick against Falkirk has given him a selection headache.
Cummings has started just one league game since joining on loan until the end of the season from Nottingham Forest, but his cup treble took his goals tally to five.
"It's a good headache for me to have as Jamie (Murphy) will probably be back fit, so do I then drop someone who has scored a hat-trick?", said Murty.
"Jason just thrives on life full stop. But he has calmed down a bit and shrunk somewhat since he came in. I have challenged him not to do that, to be himself and to be that big gallus guy.
"He said he is frustrated. 'I want to play'. Well I said you need to move forward and put a line in the sand. Be you, be strong enough to be you.
"Hopefully those goals today will see a spark thrown into him - although I'm not sure the changing room can handle an even livelier Jason Cummings to be honest."