Jonny Evans: West Brom quartet had to 'be men about it' after Barcelona incident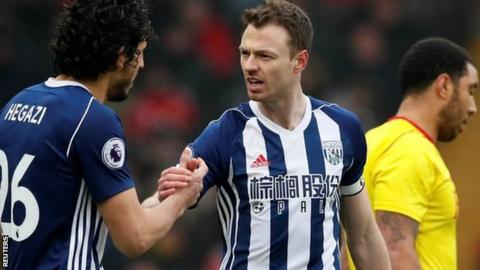 West Bromwich Albion captain Jonny Evans says he and three team-mates had to "be men about it" during the fall-out from an incident in Barcelona.
Evans, Gareth Barry, Jake Livermore and Boaz Myhill were questioned but not arrested by police after a taxi was stolen from outside a restaurant.
Evans was speaking for the first time since the quartet made unwanted headlines in Albion's mid-season break.
"It's important to react and be professional about it," he told BBC WM.
The four players apologised for "breaking a club curfew" and "the events which were the subject of widespread and negative publicity", while Evans had the captaincy taken away from him for one match - Albion's FA Cup loss to Southampton.
The Northern Ireland defender, 30, continued: "Mistakes get made but there was no intent to cause any harm or embarrass ourselves or the club.
"There's been a lot written about us. But, with everything, a lot of things get sensationalised.
"Sometimes things can happen that are taken out of your control. A lot of facts are left out to make the story seem all the more sensational.
"But we've all been around for a long time. Things have happened to all of us in our career in a number of moments when we know that, in the position we're in, all eyes are on us.
"You just have to deal with that and be a man about it."
Albion are bottom of the Premier League, eight points from safety with only nine games left to play.
Leicester were in an almost identical position in 2014-15 and, not only did they survive, they went on to become Premier League champions a year later.
That is something for the Baggies to ponder before Saturday's home game with the Foxes, for which head coach Alan Pardew has been assured he will still be in charge.
'Blown out of proportion'
Having come halfway through Albion's run of six successive defeats in all competitions, the signs of any real positive effect on the pitch for Pardew's side are yet to be seen.
The 2-1 home defeat by Huddersfield Town on 24 February, a week prior to Saturday's 1-0 loss at Watford, brought more unwanted headlines when it emerged that winger Chris Brunt had delivered an angry outburst at his team-mates.
But Evans was more intent on focusing on a much-improved team performance at Vicarage Road which warranted a better result for the Baggies - and was appreciated by the fans.
"They continued to support to us to the end and that makes a fantastic difference," said Evans.
"For us, it was a case of getting our heads down and working hard, and we've done that. Our work rate was never in question and the fans appreciate that.
"The stuff that came out of the dressing room was another incident blown out of all proportion. I don't think there was any malice in what Chris was saying, more frustration at how the situation has been.
"We had chances at Watford and, when they don't go in, it can suck the belief out of you. Another defeat and it seems more difficult, but we still believe we can get out of it.
"We'll give everything we can to make sure we avoid being relegated."
West Bromwich Albion captain Jonny Evans was speaking exclusively to BBC WM's Rob Gurney.