Scott McTominay: Man Utd midfielder's Scotland pledge a 'great coup' - Darren Fletcher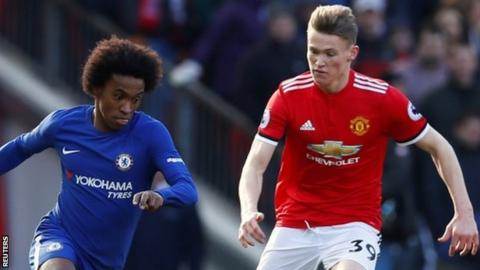 Scott McTominay's decision to choose Scotland over England is a "great coup" for the national team, says long-serving midfielder Darren Fletcher.
McTominay has been a regular starter for Manchester United in recent months, and is set to be named in Alex McLeish's Scotland squad on Thursday.
The 21-year-old was born in Lancaster but his father comes from Helensburgh, north-west of Glasgow.
"It's fantastic news for Scotland," said Fletcher, who has won 80 caps.
"He is somebody playing in the Premier League and Champions League who has really forced his way into the Manchester United team in the last few weeks.
"He is going to have a bright future. I'm sure England were desperate for him as well, with the World Cup coming up in the summer. You want form players, and central midfield is probably not their strongest position.
"I don't know him but I think he'd have had a great chance of being in an England squad and being involved in a World Cup.
"I'm surprised at that, but at the same time, if he feels Scottish, I've heard a few little snippets of him saying he'd been brought up and felt Scottish, so that's got the pull for him. If he's got that, it'd be very difficult for him to play for England."
McTominay has been associated with United since he was five and made his senior debut against Arsenal last May.
Stoke midfielder Fletcher, now 34, followed a similar path through the United academy before going on to win five Premier League titles and the Champions League.
He has warned McTominay to expect a "very different" experience playing for Scotland, who have friendlies against Costa Rica on 23 March and Hungary on 27 March in McLeish's first games back in charge.
"You've got the majority of the ball [playing for United] and sometimes [with Scotland] that's not going to be the case," Fletcher told BBC Scotland's Sportsound.
"Maybe in the United team, he's not the one that's looked for to be creating and scoring goals and you don't want that responsibility to fall on him.
"Maybe I felt that a little bit - you have to do something in the game, you have to create, you have to score, you have to show you're a good passer. All of a sudden you're putting pressure on yourself to win the game single-handedly.
"We have to realise he's a young lad, he's playing for Manchester United and he's going to have a great future, but at the same time it's a totally different game playing for Scotland.
"He'll know that, he'll adapt, and I think the biggest thing is not to put too much pressure on it. Let him find his way, ease his way into it and get that team ethos coming across."
'He always wants the ball - the sign of a good player'
Fletcher left United in 2015, when McTominay was still emerging, but he has been encouraged by what he has heard from United players and coaches.
"The first thing Ashley Young said was what an unbelievable pro he was, how fit he was, how much of a great lad he was," Fletcher recalled. "He said he was absolutely ripped, in the gym all the time, and he was somebody to keep an eye on, that he could be going places, mainly because of his attitude and work-rate and the way he was around the place.
"I've spoken to [United's Under-23s coach] Ricky Sbragia and Nicky Butt [now head of United's youth academy] and the biggest thing is his work-rate and how much the manager thinks he can trust him.
"He's somebody who is going to play for the team, he's got the superstars around him and sometimes you need somebody to do that extra bit of work and be a real team player.
"That's not to say he's not got ability himself but sometimes when you first come into the team, especially at Manchester United, you've got to earn the right. It's about working hard and being willing to go that extra hard yard to cover for some of the flair players.
"You earn the respect of your team-mates, the trust of your manager, and get more game-time, and from there you can really work on your own performances, and show you've got a passing range, show you can play as well and gain that confidence from there.
"He always wants the ball - he doesn't hide, takes responsibility and I think that's great for somebody around those superstars. That's the Manchester United way and it's the sign of a good player - somebody who always wants the ball. I think being in that sort of environment and being willing to do that speaks volumes."
Fletcher who played in Scotland's final two World Cup qualifiers against Slovakia and Slovenia last October, is waiting to discover whether he will remain part of new Scotland boss McLeish's plans.
"I've not played the last couple of games for Stoke but played every game apart from those this season," he added. "I feel good, fit, strong.
"Going forward, it's up to Alex McLeish, I've not spoken to him yet but I'm sure I will do in the near future and see what the plans are.
"He'll be desperate to look at a lot of players, especially the young players that are around just now, and he'll want to see as many people as possible in these friendly games to make the decisions for the important games coming up next season."