Rangers: Graeme Murty arranges friendly to assess Lee Wallace ahead of Old Firm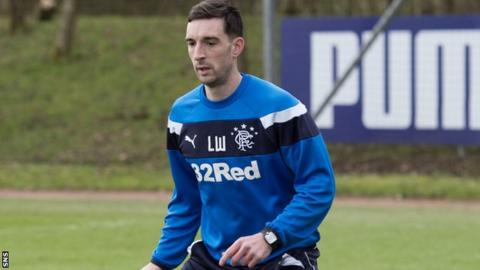 Rangers manager Graeme Murty has arranged a friendly this week to give captain Lee Wallace a chance to be fit for Sunday's Old Firm game.
Wallace has not played since suffering a double hernia injury last September.
Fellow left back Declan John has also been out injured, and Murty is hopeful one will be fit for Sunday.
"Lee Wallace will feature in the game this week and we will see about the weekend, we will see how he gets through it," Murty told RangersTV.
"I know what it is like to be out long term, you come back in and you are training really well, but it is completely different in a match."
Andy Halliday has deputised at left back for Rangers' last two games, including the 4-1 Scottish Cup quarter-final win over Falkirk on Sunday.
Wallace last featured in a 2-2 draw with Partick Thistle in September, and Murty says it will be challenge for him to regain match sharpness ahead of the Celtic game.
"I have a game arranged at the training ground for those guys who haven't had many match minutes recently, which is good for us," Murty said.
"Sometimes you run around and you feel as though you have lungs that are a quarter of the size that they used to be just because you are not used to the stimulus of a match day.
"Let's not forget a player's heart rate will be at 75% of their max for 90 minutes and it is really hard to replicate that no matter how hard you train, because we can't get that stimulus into every single player.
"This is our way to try and introduce that to him and make sure he comes through it OK. We will judge after the game, we will make sure that we recover him properly and then we will see how he is."
Murty says John is "really close" to returning to full fitness, and the Rangers manager says he is "hopeful" of being able to select a "fit left back" for Sunday.
"(John) was a miss, but the opportunity for Andy Halliday to come into the team, in a position that is not his own, is something he took with both hands in the two games he has played," Murty said.
"I have been really impressed with his attitude and he hasn't let anyone down at all.
"I would really like to praise his professionalism since he has come back and he is someone that we brought back into the group to try and push the culture up, to make sure people understand what it means to represent Rangers at the highest level.
"He understands that and he wants the standards within the group to be at the highest, and that is something he deserves credit for."