Pep Guardiola: FA chief Martin Glenn 'didn't understand' yellow ribbon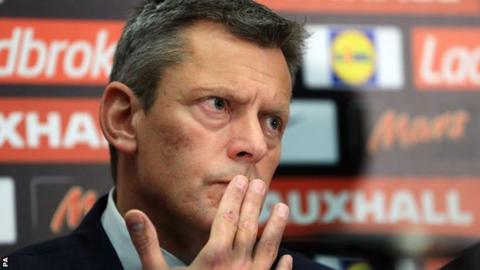 Manchester City manager Pep Guardiola accused Football Association chief Martin Glenn of failing to understand the meaning of his yellow ribbon.
Guardiola has accepted an FA charge of "wearing a political message" for what he says is to support imprisoned politicians in his native Catalonia.
Glenn has apologised for comparing the Star of David with symbols like the Nazi swastika, in discussing the issue.
"He didn't understand the reality," Guardiola said.
"I am pretty sure he does now."
Glenn has described the ribbon as "a political symbol, a symbol of Catalan independence".
But Guardiola said: "It is not about independence. It is about people being in jail when they did nothing to deserve it."
The FA took action when former Barcelona manager Guardiola wore the yellow ribbon pitchside - he is free to wear it elsewhere - during Man City's FA Cup fifth-round defeat at Wigan on 19 February.
A hearing has been requested, with a date still to be set.