Nottingham Forest record profit after writing off £40m debts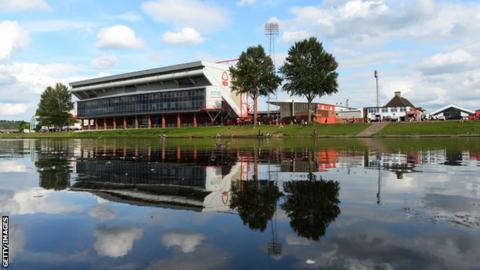 Nottingham Forest recorded a pre-tax profit of more than £32m in 2016-17 after debts exceeding £40m were written off when Evangelos Marinakis and Sokratis Kominakis bought the club.
The debts, owed to Forest's former parent company and an ex-director, were cancelled "as part of the acquisition" from Fawaz Al Hasawi in May 2017.
Additionally, Forest repaid almost £18m of loans to a previous director.
In 2015-16, Al Hasawi, who owned the club for five years, was owed £55.6m.
At the end of the latest accounting period, the 12 months up to 31 May 2017, he is still owed more than £19m. Forest's new parent company NF Football Investment Limited made £21.8m worth of loans to the club.
The Championship club's yearly report show that turnover increased to £20.8m from £18.4m for the previous year.
Forest made an operating loss of nearly £23m, which was comparable to the losses made 12 months earlier when the club posted pre-tax losses of £2.2m.
However, with £40m worth of debt written off and £14.7m made from player sales - £13m of which came from the transfer of Oliver Burke to German club RB Leipzig in August 2016 - a pre-tax profit of £32.1m was recorded.
Analysis
Colin Fray, BBC Radio Nottingham's Forest correspondent
The interesting part of the accounts lies in where they leave Forest in relation to the English Football League's Financial Fair Play rules. The Reds, of course, fell foul of them back in 2014 and were under embargo for three transfer windows.
Now, though, the club is operating well within the rules and has plenty of room to spend if the owner Evangelos Marinakis chooses to do so.
The £32m profit announced today may not be accepted by the League, due to the £40m of loans written off. QPR did something similar a few years ago, but the League disputed it. However, the circumstances at Forest seem significantly different.
But even in that worst case, the figures represent a loss for this year of £8m, which combined with the previous two years' losses would give a three-year figure of around £31m - comfortably within the permitted £39m limit.
Two factors are also in Forest's favour.
Firstly, since these accounts were issued, the Reds have sold Britt Assombalonga for £15m.
Secondly, the recorded loss of £21m in the season 2014-15 will no longer be relevant in the next accounts.
All of which means Forest will be able to spend next season, if they choose to.