Pep Guardiola: Manchester City manager fined over yellow ribbon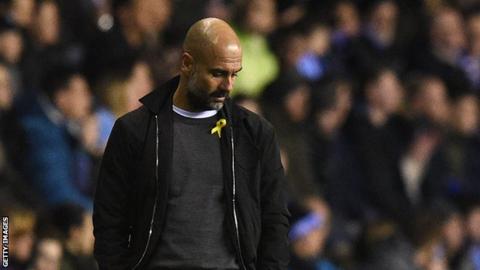 Manchester City manager Pep Guardiola has been fined £20,000 for wearing a yellow ribbon on the touchline during the FA Cup defeat at Wigan.
On Monday, the Spaniard accepted the Football Association charge for "wearing a political message", a breach of kit and advertising regulations.
In November, Guardiola said he wore the ribbon to support imprisoned politicians in his native Catalonia.
He has also been warned about his future conduct.
The FA spoke to the City boss about the situation in December and had previously issued two formal warnings.
However, action was taken when he wore it pitchside - he is free to wear it elsewhere - during City's FA Cup fifth-round loss to League One side Wigan on 19 February.
Two key members of the Catalan independence movement - Jordi Cuixart and Jordi Sanchez - were held without bail after an independence vote in October, which the Spanish government deemed illegal.
Last month, Guardiola said he would continue to wear the ribbon despite being charged for doing so.
He argued that the symbol was "not about politicians, it's about democracy".
On Sunday, FA chief executive Martin Glenn insisted the ribbon is a political symbol, saying "it's a symbol of Catalan independence" and "we don't want political symbols in football".
Guardiola responded to those comments by saying Glenn "didn't understand the reality".
The Spaniard did not wear the ribbon during City's Premier League match against Chelsea in the Premier League on Sunday but did so during the news conference afterwards.
However, Guardiola wore it during City's Champions League game against Basel on Wednesday as Uefa, European football's governing body, has different rules on political symbols.