West Ham face relegation if 'aggressive' atmosphere continues - Sir Trevor Brooking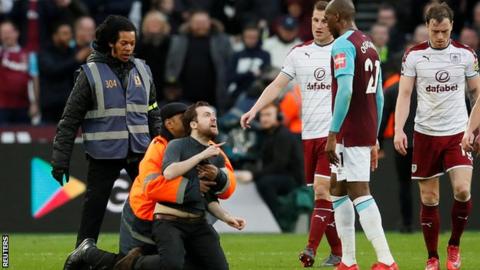 West Ham fans could get their club relegated if the "aggressive" climate continues, ex-Hammers forward Sir Trevor Brooking said.
The club have launched an inquiry after a number of fans invaded the pitch in Saturday's 3-0 home loss to Burnley, with Brooking saying joint chairman David Sullivan had been hit by a coin.
"Just don't come to the games at the moment until you try to allow the players to get the points to stay up," he told BBC Radio 5 live's Sportsweek. "That atmosphere must never come back."
Brooking said the first goal scored by Burnley striker Ashley Barnes "triggered problems" and "there was a quite sizeable group then below the directors' box that came to chant in a really aggressive manner".
He added: "Before the final whistle, two of the directors went upstairs - were asked by the security people to do so.
"I think a coin did hit David Sullivan on his glasses. I didn't see it but I did have that confirmed, which was part of the reason why they thought people in the directors' box should go inside to save any more problems like that."
At least two fans went on to the pitch at London Stadium after Burnley took the lead - with one approaching West Ham captain Mark Noble.
Another fan ran on with a corner flag shortly after Burnley scored their second goal, with further incursions after the visitors struck a late third.
Noble described the atmosphere at London Stadium as "horrible", while BBC Sport commentator John Motson said it had been "the most scary moment" he had experienced at a football ground.
Could West Ham be relegated?
West Ham are three points and two place above the relegation zone after losing to Burnley and their next game is at home to fellow strugglers Southampton on Saturday, 31 March.
"Before yesterday they had six home games out of nine, which to a certain extent looked an advantage," Brooking, 69, added.
"When you've just lost 3-0, had people coming on to the pitch and a lot of people venting their frustration to the directors - that means the next five games at home look pretty bleak.
"There is no way the team is going to play and get the points to stay up under that sort of atmosphere. It is impossible.
"That atmosphere must never come back in the last five games otherwise the club is in serious trouble and the players won't be able to deliver."
Police said there were four separate pitch invasions and they have received two allegations of assault which they said are being investigated.
Burnley substitutes allowed some children caught up in the protests to sit on the bench towards the end of the match.
Brooking believes the level of stewarding, which is provided externally by the London Stadium operators, was not "sufficient".
"The club are obviously going to have to look at things with the local police and make sure that trained stewards and police are in place - you're almost looking at it and saying, 'this is out of control'," Brooking said.
"It was sometimes going back to the bad old days of 20-25 years ago.
"I saw some families leaving because the youngsters were frightened.
"The level of aggression was something I couldn't believe a West Ham fan would get involved in.
"All I would say, between now and the end of the season is, 'anyone who has got that aggressive frustration just don't come to the five home games that are left' because we need everyone - all the fans and the team - all working together to try to get sufficient results."
What happens next?
West Ham want a police presence at all their remaining home games, and shortly after Saturday's match released a statement which revealed an emergency meeting was planned.
The Football Association said it "condemns the crowd disturbances" and "will be seeking observations from West Ham as well as awaiting the match referee's report".
The Premier League added that "while the official investigation of the incidents will be carried out by the Football Association, we will be asking our own questions of West Ham United" to "ensure similar events never reoccur".
Asked about the possibility of the Hammers having to play home games behind closed doors, Brooking said: "I hope not.
"It's a discussion that we have got three weeks to sort out. What they definitely need to do is speak to the police. A lot of the stewards on duty are stadium people and sometimes haven't had any experience of dealing with football crowds.
"The police and board have to get together and make sure whoever is looking after the control of the crowd against Southampton in three weeks' time has the experience and knowledge to make sure nothing escalates like it did yesterday.
"If they can reassure the FA and Premier League then, hopefully, you would like the game to take place in front of a crowd."
Analysis - 'It was a toxic scene'
BBC Sport commentator John Motson
It was the most scary moment I've had at a football ground. I'd even go back to those days when Luton and Millwall had that riot back in 1985.
If there hadn't been that neutral area between where the directors were sitting in the front row and the 300-400 - that's only an estimate by me - irate fans who were shouting at them, pointing at them and throwing things, I think someone could have been seriously hurt, in addition to that coin which was thrown at David Sullivan.
It was a very ugly and toxic scene. Obviously, the police were not inside the stadium at this point. It was a horrible, frightening scene and in the end, quite rightly, the West Ham staff coaxed people back into the boardroom before the final whistle because everybody was absolutely devastated by what might have happened. I think the ramifications are going to be enormous.
At one point I thought the game would be abandoned, but I think the most important thing is in that at the London Stadium the stewarding needs a serious overhaul.
I know a lot of supporters of West Ham who are thoroughly decent people. We shouldn't run away with the idea that 50,000 people were tearing towards the directors' box. But, the 300-400 who did presented a frightening minority who were prepared to do damage had they been able to get any closer.