BBC Sport - Harry Dolman: Did ex-Bristol City chairman predict football's future?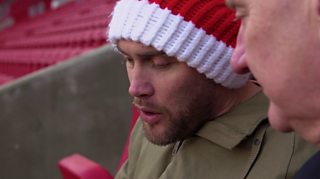 The man who predicted football's future
Actor Joe Sims and author Martin Powell delve into the notes of late ex-Bristol City chairman Harry Dolman to see his football predictions.
Dolman, who was chairman from 1949 to 1974 before passing away in 1977, appears to have foreseen all-seater stadiums, floodlights, automatic turnstiles and artificial pitches long before they became part of modern football.
Inventor and entrepreneur Dolman, who designed Ashton Gate's first set of floodlights in the early 1950s, also predicted that the Robins may one day play in Europe.
You can watch the full story on BBC Inside Out West on Monday, 12 March at 19:30 GMT on BBC One.