BBC Sport - Republic of Ireland boss Martin O'Neill 'hoping' eligibility row with IFA can be resolved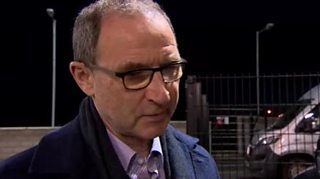 Martin O'Neill 'hoping' eligibility row can be resolved
Republic of Ireland manager Martin O'Neill is hopeful relations between the Irish FA and the Football Association of Ireland can be improved.
Northern Ireland boss Michael O'Neill says he has been seeking a meeting with his counterpart for 'more than eight months' in an effort to address his concerns about underage footballers choosing to change their international allegiance.
As he arrived at the Brandywell for Derry City's first game at their redeveloped stadium, Martin O'Neill told BBC NI he would welcome a meeting.
"I would be hoping that we would be able to sit down at some stage or other and have a conversation over it," said the Republic boss. "But again I would reiterate the point I made last week, it is very much the player's choice what ever age he happens to be."
Top videos