Russian spy attack: No change to FA's England World Cup plans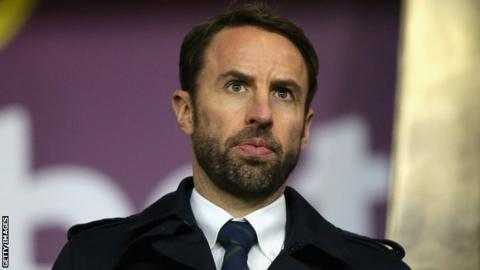 The Football Association has made no change to plans for England's presence at this year's World Cup in Russia despite calls to consider a boycott.
Former spy Sergei Skripal and his daughter were poisoned by a military-grade nerve agent of a type developed by Russia, Theresa May has told MPs.
The PM said it was "highly likely" Russia was responsible for the attack.
"England's participation in the World Cup ought to be in question," Labour MP John Woodcock told BBC Radio 5 live.
"Certainly there should be no question of government officials, dignitaries, or senior members of the FA going over there."
The 2018 World Cup runs from 14 June to 15 July. England start their campaign against Tunisia in Volgograd on 18 June.
Woodcock, the MP for Barrow and Furness and chair of Labour's backbench foreign affairs committee, said he had not yet personally decided if it would be right for England to play in the World Cup.
"I recognise this is the pinnacle of a player's career, and they may only get one shot at it, so it's not a step that should be taken lightly," he told 5 live's Anna Foster.
"There needs to be a mix of the FA itself and the team itself taking a view on this. It's not something which I think should be universally directed by anyone in government, but I do think it ought to be in question."
Former FA executive David Davies told BBC Radio 5 live he was opposed to any boycott that was not supported by the international community.
"If I could be convinced that England alone pulling out of the World Cup would upset anybody other than the English then maybe it would be a serious option," he said.
"I don't think the idea of pulling the team, or encouraging the FA to pull the team out of the World Cup on its own is seriously being considered at the moment, but times change of course."
Davies said the FA will "want to be convinced of the safety" of the England team and fans during the tournament.
"It's beyond me that the Russians will want anything but this World Cup to be a huge success, and that involves safety," he added.
The Foreign Office has summoned Russia's ambassador to provide an explanation for the attack on Skripal and his daughter Yulia in Salisbury on 4 March. Both are in a critical condition in hospital.
The PM said if there was no "credible response" by the end of Tuesday, the UK would conclude there has been an "unlawful use of force" by Moscow.
Woodcock said the UK should rule out "senior officials, dignitaries and politicians" attending the World Cup and ask its allies to carry out a similar "official level boycott".
"The idea that people will be effectively endorsing the pomp and ceremony of these occasions, and the prestige which it brings to the host nation, when Russia is carrying out unlawful acts against a fellow member of the UN security council, and several other of its neighbours, it shouldn't be happening," he said.
"If the officials of the whole of the 29 Nato nations at the least were to refuse to send people, if collectively we were to take the decision that we were not going to go to endorse Russia by being there, I think that would send out a significant message."
When asked if Russia would care about such a step, Davies said: "I doubt it, but that is the sort of symbolic gesture that yes you can make."