Egypt put Ramadan measures in place ahead of World Cup
By Tarek Talaat
BBC Sport, Egypt
Last updated on .From the section African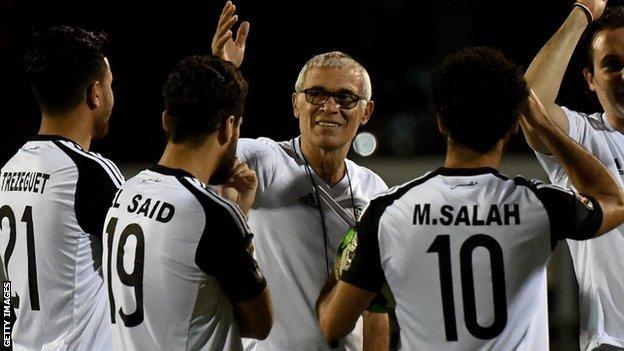 Egypt coach Hector Cuper says there will be measures in place to ensure the squad stays fit in the lead-up to the World Cup in Russia as players may be fasting during the holy month of Ramadan which starts in May.
"The Egyptian Football Association has hired specialists to help me and the players during the fasting month of Ramadan," Cuper said at a news conference.
"We will organise and monitor their eating and sleeping and hope that this will not affect them badly.
"It may be a problem for the coaches because the players will stop eating from sunrise until sunset, so it will not be easy during training but that is to do with the religion and I can't prevent them from observing Ramadan," Cuper, who hails from Argentina, added.
Cuper says he respects his players' beliefs and will support them during the Muslim holy month of Ramadan.
"I respect Islam and all religions," the 62-year-old said.
The Pharaohs are playing friendlies against Portugal on 23 March and then Greece four days later.
Cuper said he was optimistic about the matches and the team's preparation for Russia.
"We will play two friendly matches, and one of them is against Portugal and Cristiano Ronaldo. As far as preparations go, that is very good for us."
The Pharaohs have been drawn in group A alongside hosts Russia, Saudi Arabia and Uruguay, and will kick off their World Cup campaign on 15 June against Uruguay.