Matt Salmon: Mansfield Town and Notts County look for fitting derby encounter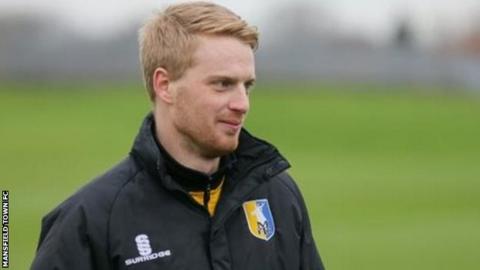 Mansfield Town captain Zander Diamond says retaining the Matt Salmon Trophy by beating fellow League Two promotion-hopefuls Notts County will be a fitting way to honour the former youth physio.
Salmon, who started his career with the Magpies, died in May at the age of 25 after a long battle with lung cancer.
The clubs played for the Matt Salmon Trophy for the first time in September.
Mansfield won 3-1 and Diamond hopes to return the silverware to the new Matt Salmon Treatment Room at Field Mill.
"Matt was taken so young and it puts a lot of things into perspective," Diamond said.
"He had a bond with both sides and having a treatment room in memory of him is a fantastic gesture.
"Hopefully we can get a victory on Saturday and put that trophy in the room to commemorate him."
Salmon started his career at Notts and spent three-and-a-half years working for the Stags.
Stags chief executive Carolyn Radford added: "We all know of the fierce rivalry between Mansfield Town and Notts County, but this is an instance in which both clubs are united to remember someone who was genuine, hard-working and warm-hearted."
Notts County captain Richard Duffy said: "For Matt to be taken so young is desperately sad. It's a big three points but this puts things into context."