Sectarianism in Scottish football: Neil Lennon - 'It is better now, but there is no place for it'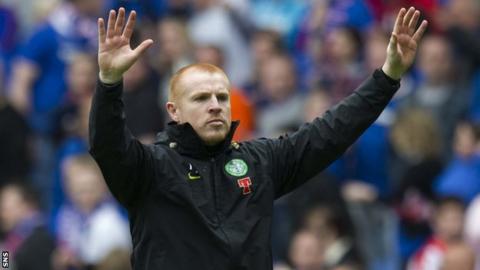 Hibernian boss Neil Lennon believes there are fewer incidents of sectarian chants and songs in Scottish football than in years gone by.
Match delegates employed by the Scottish Professional Football League are dismayed by a lack of action when they have reported problems.
But Northern Irishman Lennon, who has endured threats, abuse and violence during his career, thinks instances are less prevalent than previously.
"I think it is better now," he said.
"We saw some really disturbing scenes pre-season, but in the main, I haven't really taken huge notice of it, and normally I pick up on these things.
"The majority of supporters in the country now are supporting within the laws of the game.
"There is no place for sectarianism anymore. It is a form of racism, and we want to kick all forms of racism out of the game completely.
"There is no place in society for it. Some people use football as a vehicle to vent their frustrations or beliefs. But not many people want to listen to it anymore."
A bid to repeal the Offensive Behaviour at Football Act was backed by MSPs in its first full vote at Holyrood in January, with the final stages of the act to be debated on Thursday, 14 March.
The SPFL employs delegates to help enforce league rules during matches, and identifying sectarian singing is part of that brief.
But under the current rules, if clubs can prove they have taken all reasonable steps to prevent such behaviour, they will escape any sanctions.
Lennon, 46, stopped playing international football for Northern Ireland in 2002 after a death threat, said to be from loyalist paramilitaries.
He was also the victim of a street attack in Glasgow, and was sent a parcel bomb in 2011 while Celtic manager.