Neil Doncaster: SPFL chief joining SFA board 'a shocking appointment' - Stewart Gilmour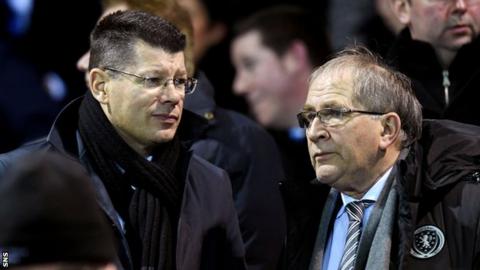 The SFA's decision to bring Scottish Professional Football League chief executive Neil Doncaster onto its board is a "shocking appointment", believes ex-St Mirren chairman Stewart Gilmour.
Doncaster has replaced Partick Thistle managing director Ian Maxwell, who is favourite to succeed Stewart Regan as the Scottish FA's new chief executive.
Gilmour believes the move is the result of a "political fight" at the SFA.
"I think it is a shocking appointment," he told BBC Scotland's Sportsound.
"I think it shows a real lack of leadership in this day and age when we are supposed to be having new visions and new ways forward.
"Neil's integrity with supporters is so low, it is unbelievable. I just can't believe the SFA board members would appoint Neil to come onto their board. I take it he has been co-opted on at this time of year, as no-one else has voted for this.
"I think it is a dreadful appointment. I don't think it shows any way forward for Scottish football, any new broom. We keep getting told things are going to change. I really do think it is a poor appointment."
Applications for the vacant SFA chief executive post closed last Friday, with Adrian Bevington, the former English FA Club England Managing Director among those understood to have applied.
But Gilmour believes board members have already decided to appoint Maxwell, a former professional with Queen's Park, Ross County, St Johnstone, St Mirren and Partick Thistle, who is now Thistle's managing director.
"We are searching for a good chief executive; we really do need one," he said. "But it would appear to all the world that Ian Maxwell is a shoo-in.
"I am not against Ian, I know him very well. I had him as a player [at St Mirren], I have seen what he has done at Thistle.
"But is this right? Have we got an HR company looking for the best people? Are we going to get the best people?
"I know someone who was interested in the post and he was approached by a company. They said to him, 'Your man [Maxwell] is a shoo-in'.
"That assures me that we are not going to get the best four or five candidates. Not a chance."
'It looks like 'you scratch my back, and I'll scratch yours'
Maxwell has applied to be Regan's successor and was believed to have asked to be relieved of his responsibilities as a board member to avoid a conflict of interests.
Doncaster, who has been chief executive since 2009 of first the Scottish Premier League, and then the SPFL when it replaced the SPL and Scottish Football League organisations in 2013, was "elected unopposed" at the SFA's Professional Game Board meeting on Tuesday.
Former Scotland assistant coach Peter Houston also believes bringing Doncaster on board casts doubt on the governing body's appointment processes.
"There is a lot of politics within the SFA; It has been going on for years and years," Houston told Sportsound.
"If there was ever a chance for re-form and getting things moving forward, with no chief executive there was an opportunity to strip it all back and have a look to see if there was a better way forward," he said.
"Neil is a thoroughly fine guy; I've had several one-to-one conversations with him. But with him being appointed, it looks as if it is a case of 'you scratch my back, and I'll scratch yours'."