Carlos Carvalhal: Alfie Mawson's England call-up a reward for improvement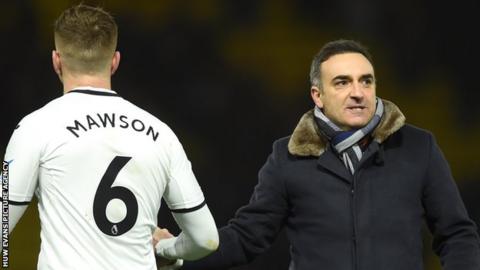 Swansea City manager Carlos Carvalhal says Alfie Mawson's England call-up is reward for his improvement this season.
Mawson has been an integral part of Swansea's revival under Carvalhal and has attracted the international attention of Gareth Southgate.
"I'm very happy. Alfie is progressing a lot. In my opinion he is a better player now, doing different things than in the past," said Carvalhal.
"We will help him develop further, but he has a lot of quality."
Mawson's England call-up came on the same day Wales called up young Swan Connor Roberts for the China Cup.
World Cup aim for Mawson
With England manager Southgate just two months away from naming his squad for the World Cup in Russia, Carvalhal believes Mawson is a genuine contender to make the final 23-man squad.
"He is a player completely ready to play at the highest level," Carvalhal said.
"All the credit is to him, he is such a team worker. He is not just a good defender, but nowadays he is also better and better to start the ball to attack, which you need if you want to play with quality.
"Whether he has a chance to go to the World Cup I don't know, but I can say he is ready to play at that level."
Carvalhal says he is proud of the role he played in developing Mawson.
"All the time since I started management I had two things in my head. One is to develop teams to win games, this is my job. But parallel to this is to make players better, this is my challenge," he said.
"I want to feel after one or two months they are better players. It means he is doing things he didn't do in the past."
On Roberts' Wales call for the China Cup, Carvalhal reflected: "He is doing very well, he's progressing also, doing better and better and as a boy from our academy, it makes us very happy.
"A Welsh boy playing in the Premier League and also receiving the call from the national team is fantastic for Swansea."
More pressure on Tottenham even without Kane
Swansea face Tottenham Hotspur at the Liberty Stadium in the FA Cup on Saturday as the Welsh club bid for a first semi-final appearance since 1964, the year before Carvalhal was born.
The Swans have not beaten Tottenham since 1991 -coincidentally the same year Spurs last won the FA Cup - but Carvalhal believes the cup tie is bigger for the North London side than his men.
Swansea's main objective is to stay in the Premier League, whereas thanks to their Champions League elimination at the hands of Juventus, the FA Cup is now Tottenham's best opportunity of winning a first trophy since the 2008 League Cup.
Tottenham will be without their talisman Harry Kane for the match due to his ankle injury, but Carvalhal does not believe that offers any advantage to his side.
"In the last game [at Bournemouth] they were losing 1-0 and when he came out they won 4-1," he said.
"He [Kane] is a fantastic striker; I like him a lot, but in big teams… all the players have big value and that includes the substitutes."
Carvalhal feels there will be more pressure on Tottenham than his side, explaining: "A club like Tottenham has high expectations and they want to win trophies, so we want to do our best, we are underdogs.
"I am not trying to put pressure on them, there is already a natural pressure to win every game and it is normal for them, they have to win.
"If they lose it is like the end of the world. It is a reality for Tottenham; they have more responsibilities in this competition than Swansea."
Spurs won 2-0 at the Liberty Stadium on 2 January, Carvalhal's only home defeat since taking charge of the Welsh club.
However, the Portuguese feels his side have a bigger chance of success than they had in that match, even though he still believes it is a "David against Goliath" encounter.
"It is David against Goliath but I think we are in a better moment than when we played them in the league," he said.
"In this moment I think we could say we have a 30% chance to win compared to maybe 10% as we are progressing."